A culinary trek through northern Israel – Toronto Sun
The region is ripe with food and beverage gems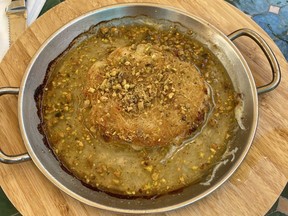 There are the mountains of Western Galilee and, of course, the people. But don't sleep on the food experience of this land tucked in Israel's northwestern corner.
A journey here is best experienced with an empty stomach and gas in the tank.
Your Midday Sun
From our newsroom to your inbox at noon, the latest headlines, stories, opinion and photos from the Toronto Sun.
By clicking on the sign up button you consent to receive the above newsletter from Postmedia Network Inc. You may unsubscribe any time by clicking on the unsubscribe link at the bottom of our emails. Postmedia Network Inc. | 365 Bloor Street East, Toronto, Ontario, M4W 3L4 | 416-383-2300
Stretching from the Mediterranean coast north of Haifa to the Lebanon border and inland toward the Upper Galilee, the area is ripe with food and beverage gems. Come along for a mouth-watering excursion.
ODETTE CHOCOLATE AND PRALINES BOUTIQUE
Shlomit Zamir has a PhD in materials engineering and worked 18 years in Israel's defence industry. But after a cancer diagnosis a decade ago, she decided to make a change and create a business from her long-time hobby — chocolate. And it wasn't just about herself — she wanted to build a good place for her special-needs brother to work in.
Shortly after opening Odette — named after her late mother — her vision expanded, and, she says, "I wanted to make the best chocolate in the world."

She worked for three years in her "laboratory of chocolate" at Kibbutz Regba (westgalil.org.il/en/ent/odette-boutique-chocolate-and-pralines) and decided to design her pralines in "the most classic shape, which is half-sphere" and to define the taste — inspired by Nespresso — with different colours.
Artificial ingredients are presently used in just some of the offerings, otherwise, Zamir says, the "tastes are all pure — if we have strawberry, there's real strawberry inside."

The chocolates' patterns also indicate the kind of filling, such as fruit, alcohol, nuts, vegan, etc. Visitors can attend a workshop to learn how the chocolate is made and take home their creations.
JULLIUS CRAFT DISTILLERY
Yuval (Joov) Hargil wrote about food and alcohol for an Israeli newspaper before he decided in 2008 to try his hand at producing alcohol and partnered with Dan Yoeli, who unfortunately died two years later. Their creation, named Jullius in honour of Yoeli, was the first artisan distillery in Israel and the first in the country to distil spirits from local fruits such as mandarin, prickly pear and fig (jullius.com).
Operations moved in 2016 to Kibbutz Hanita, located on a hill next to the border with Lebanon. It features breathtaking views of the surrounding region down to the Mediterranean Sea. The craft distilling methods include a two-tone copper alembic running on solar energy.

"Working in small batches allows us to collect only the purest extracted 'heart' of the distillate" so no sugar, acid, flavouring or colouring need be added, the company says. Visit their tasting room to try their many beverages including the popular Marc de Galilee aged pomace brandy, Akko gin, schnapps from Galilean fruit, and vermouth made from dabuki grapes not grown anywhere else in the world. Each of the about 25,000 bottles produced a year has its own number as the company notes its manual production and seasonal variations make them all "a unique creation."
TUPELO WHEAT-FREE BAKERY
Vered Baer, who is Jewish, along with her Arab Christian husband, Murad Bishara, serves up gluten-free dishes at Tupelo in the picturesque town of Tarshiha. In business for about two years, the eatery's concept was inspired by Baer's sister, who has celiac disease. In the pretty and peaceful outdoor garden setting, we particularly enjoyed the mozzarella sandwich on a vegan sourdough baguette and the vegan and gluten-free knafeh for dessert.

TULIP WINERY
Tulip boutique winery (tulip-winery.co.il/en) combines wine making with contributing to the community. Founder and CEO Roy Itzhaki grew up in a wine-lover family. Every Friday dinner they shared a nice bottle and every trip abroad they visited wineries. After serving his time in the army, he took economics and business management at college and decided at age 25 to start his own company. Wine was the natural fit.
His business plan began with three main goals: Produce quality products, create unique wines as well as mainstream (Tulip's White Franc is a blend of rose that's 70% cabernet franc and 30% sauvignon blanc, he says. "As far as we know, nobody in the world combines these two varieties"), and do something good for the community.

To that last end, he approached the CEO of Kfar Tikva ('Village of Hope'), a community since 1964 for 240 people with special needs, with the idea of establishing his winery in the village to give residents "the opportunity to have a job and be part of the wine industry." They produced 7,000 bottles in 2003, their first year, and have grown to 350,000 bottles a year and employ 45 people from the village, which is "life changing" for them.
OLD AKKO
The Old City of Akko (Acre) on Israel's northern Mediterranean coastline was established 5,000 years ago but only recognized as a UNESCO World Heritage Site in 2001 after extensive excavations of the Hospitallers Order's Fortress from the Crusader period revealed centuries-old grand halls and tunnels. And, amazingly, even more of the compound is still to be uncovered.

One of the finds to experience is the Templars Tunnel, which connects the fortress to the port and runs beneath houses of the Old City. It was discovered by chance in 1994 after a complaint about a blocked sewer. Be sure to duck.
The restored 18th-century Turkish bathhouse is no longer for its original use, but with the help of an audio guide visitors can walk through the hammam and hear the stories of five generations of fictitious bath attendants talking about the Ottoman era.

The maze of alleyways within the port walls contains a traditional Arab marketplace with traders such as glass blowers, potters, weavers, embroiderers, leather craftsmen, and more selling a myriad of goods alongside cafes and restaurants. Stroll along the seafront promenade and watch (maybe nervously, like me) as youths jump into the water off the ancient walls.

Stop for snacks including grape leaves at Turkiz — located in an alley decorated with plants and bright colours — to tide you over while exploring. For dinner, we filled up on the waterfront at Elmarsa Restaurant, which uses fresh seafood and local ingredients while combining Akko and European cuisine.

WHERE TO STAY
The boutique, adults-only Schumacher Hotel in Haifa (the-schumacher.com) was our launching pad for exploring the northern region of Israel. The building, which dates to 1933 and was restored from 2015-18, houses 40 contemporary intimate rooms and spacious suites with a lovely garden entrance.
While in Haifa, be sure to check out the Baha'i Gardens' landscaped terraces on Mount Carmel and gold-domed Shrine of the Bab as well as the trendy German Colony neighbourhood — founded in the 1860s by German Templars and later built up by German Protestants — at the foot of the gardens.

IF YOU GO
Find out more about Western Galilee small businesses at westgalil.org.il/en and about visiting Israel at canadavisitisrael.com.