AGAR: When local politicians drag their feet – Toronto Sun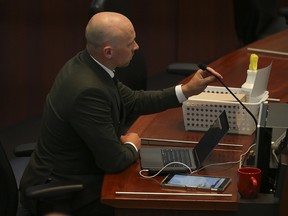 If local politicians won't do the work required to solve local problems, what's the use of having them? This is a Toronto story, but it is the kind of thing we deal with in most communities and it leads to cynicism in the public.
Paddle Pirates — interestingly named under the circumstances – applied for but did not get a permit to rent out paddle boards and kayaks in the park in an area known as The Beaches, along Lake Ontario.
So, Paddle Pirates merely moved trucks onto the street and rented from there. Residents were upset over the loss of parking, and the businesses that had permits were upset that someone who didn't pay the $10,000 fee they paid was taking on business.
I talked to Councillor Brad Bradford, the councillor for The Beaches – East York, asking why this has been going on for three years.
Bradford admitted that permitted businesses should be able to take full advantage of their opportunity and the city should ensure that "folks who are taking advantage of loopholes should not be able to do so." He said, "We are working in earnest to make that happen."
I replied, "Three years is not in earnest." He said, "I am working through the channels we have available and I am working hard on that."
One wonders how long it would take to do something complicated. It is simply a matter of either shutting down a scofflaw operation or declaring the street open for business.
If it is OK to do business that way, the street will fill up in the summer with paddle board renters, food trucks, bouncy castles and snow cone stands, with no room for parking. The city could decide either way, but for three years they effectively did nothing.
Imagine the frustration of the residents. Imagine paying a large fee as two other businesses have done and for three years having a competitor who does not.
My frustration was having a councillor pee on my leg and tell me it is raining by saying he is working in earnest when it dragged on for three years.
I talked with Sebastian Auger, the "Pirate Captain" – that's his actual title at Paddle Pirates. His position is that he would happily pay the $10,000 fee, but that the city would not let him.
Right. They have decided to permit two operators in the park. Not three. Not ten. Two. He didn't win a spot.
He is proud of his company and the great reviews they get, and the people he employs. Good for him. That was never my issue.
I wasn't doing the story to try to run someone out of business. I was doing it to profile lazy politics. I thought Councillor Bradford embarrassed himself on the radio. He must have thought so as well.
Suddenly he did something. The city has decided that commercial trucks cannot do business on the street in that area of The Beaches.
Paddle Pirates web page now reads: "At this time we are not accepting new bookings in Toronto." Bradford only responded to citizen complaints and a permitting issue in his ward because he was embarrassed on the radio, in public. It should not work that way.
This issue should have been resolved within days, three years ago. Maybe City Hall could get their act together. But some say I am dreamer.
Your Midday Sun
From our newsroom to your inbox at noon, the latest headlines, stories, opinion and photos from the Toronto Sun.
By clicking on the sign up button you consent to receive the above newsletter from Postmedia Network Inc. You may unsubscribe any time by clicking on the unsubscribe link at the bottom of our emails. Postmedia Network Inc. | 365 Bloor Street East, Toronto, Ontario, M4W 3L4 | 416-383-2300