Band of brothers reunites to celebrate '90 Bombers – Winnipeg Sun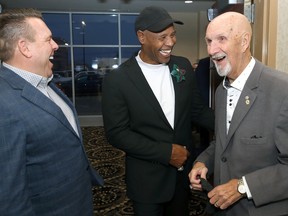 They say winning a championship creates a bond between teammates that lasts forever.
Members of the 1990 Blue Bombers are at 32 years, and counting.
The Winnipeg Sun's Daily Headline News
Sign up to receive daily headline news from the Winnipeg SUN, a division of Postmedia Network Inc.
By clicking on the sign up button you consent to receive the above newsletter from Postmedia Network Inc. You may unsubscribe any time by clicking on the unsubscribe link at the bottom of our emails. Postmedia Network Inc. | 365 Bloor Street East, Toronto, Ontario, M4W 3L4 | 416-383-2300
More than a dozen former players, staff members and their head coach held a reunion in Winnipeg this past week.
The occasion: their induction into the Manitoba Sports Hall of Fame on Thursday night.
The vibe: a camaraderie and appreciation for what they shared, what they still share, that can only come with time – and what it takes away.
Article content
Several players from that team, not to mention management and staff, didn't live to see this day.
"That's one of the reasons that brought me back," head coach Mike Riley said. "We're all getting older, and things have happened, and it just makes you think, 'I've just got to get back and honour this team.' They did so much for me. I was just privileged to be part of it and enjoyed every minute of it.
Article content
"It makes you really reflect on what's important."
The unofficial count is eight players who've died, a high number when you consider most of them would just be in their early-to-mid 60s now.
Gone but not forgotten are flamboyant and feared linebacker Tyrone Jones, running back Warren Hudson, who scored two touchdowns in that Grey Cup game, O-linemen Nick Benjamin and Steve Rodehutskors, D-lineman Quency Williams, fullback Matt Pearce, linebacker Jeff Croonen and receiver Rodney Hughes.
"Just be thankful for them," Riley, 69, said.
What Riley and the players who remain remember most about that '90 team is how close they were.
It may be cliché to call it a family, but that's what they say it was.
"We have lost far too many from that team far too early," former centre Lyle Bauer, who's survived his own bout with cancer, said in an email from his home in B.C. "That group of brothers was very special. An amazing bond between all of us. Sure, we fought like any family does but when it came time to get on the field and have each other's back there was no question who we were. We were the Bombers. Tough, hard-nosed football on all sides of the ball."
Article content
Bauer, 64, was unable to make the reunion, but was eager to revisit some memories.
It was one of those teams where the defence was as much fun to watch as the offence.
"Tell me another team or time that had a defense like that one?" Bauer said.

The numbers back him up: Winnipeg gave up 398 points that year. The next-stingiest team, Edmonton, gave up 510.
It sure was loaded with characters and Hall of Famers, including Jones and fellow linebacker James West, both of whom talked as good a game as they played, with the cerebral yet punishing Greg Battle running things from the middle.
Ball thieves Rod Hill and Less Browne manned the corners.
The larger-than-life West rolled into Winnipeg the other day ready to wrap his arms around everyone who showed up for the reunion.
Article content
"This has been at least 30 years since we all have seen each other," the 66-year-old Texan said. "Of course you can get on a Zoom call, but we want to touch, let you know how much you mean. When you high-five somebody or you hug somebody, man… an amazing thing. You feel them. So I want to touch my brothers."
After the hugs came the stories, so many they almost didn't know where to begin.
How about with the fights?
"It was some crazy stuff going on there," punter Bob Cameron recalled. "We had fights in practice and in the locker-room. All the years I played, that was the only year I ever saw anything like it. We had some characters. But it was a lot of fun."
Riley chuckles when recalling the scraps.
"There was all sorts of stuff, always," he said. "There was no lack of emotion, no lack of engagement. Everybody was in it. It was a marathon of emotions, going through that season. But it was an awesome group of people put together just at the right time."
Article content
Riley says Bauer and West were the leaders who kept things on track.
Coming off a 7-11 year, Cameron, 68, says he actually didn't expect much going into that season.
"I'm thinking, man, this could be the worst team I've ever played on," he said.
It turned out to be one of the best.
First-year CFLer back Robert Mimbs was a dual threat at running back, while quarterback Tom Burgess, who'd arrived to little fanfare in a trade from Saskatchewan, was the perfect fit to lead the huddle, with rookie Danny McManus coming off the bench.
James Murphy and Perry Tuttle led the receivers, placekicker Trevor Kennerd and Cameron, who never faced a wind he couldn't tame, the specialists.
"Oh boy, that was a team in every sense of the word," Riley said, crediting the late Cal Murphy for pulling all the right strings as GM. "It had all the elements that we needed here in Winnipeg."
Article content
Rolling to a league-best 12-6 record, Bombers finished first in the East, but not without a hiccup or two along the way. Most notable, a 55-11 loss to Saskatchewan in the Labour Day Classic.
Like it happened yesterday, Riley recalls a funny exchange between Bob Padilla, his defensive coordinator, and assistant Gene Gaines, who was up in the booth.
"It's the fourth quarter and we're just getting killed," Riley said. "And I'm on the phone, so I can hear Bob talk. And he said, 'Gene, get down here on the sidelines and be embarrassed like the rest of us!' The moral of the story is, they come to our place (three weeks later) and we beat 'em, 36-6."
It was actually 36-7, but who's quibbling over that detail?
In the playoffs, the Bomber escaped the East Final with a 20-17 win over Toronto, thanks to a Burgess run up the middle which set up Kennerd's winning field goal on the last play.
Article content
"Then all the pieces came together in the Grey Cup," Riley said.
The first CFL team to finish last in offence and post the league's best record, the Bombers entered the 78th Grey Cup in Vancouver as underdogs.
That didn't faze most of them, notably West.
"Before championship games in the locker-room, everybody's quiet and really nervous, because this is it, right?" Cameron said. "And James is walking around, playing music, dancing. It's like he's going out for a practice. Not a worried bone in his body. Incredible. When he and Tyrone were together, it was magic. It was just so much fun."
West acknowledged doing some pretty good partying during Grey Cup week, but when it was time to prepare, they worked.
When Sunday came around, they mauled Edmonton, 50-11, on the strength of a record, 28-point third quarter.
Article content
"Incredible," is how Cameron described it. "Between the third and fourth quarter, I'm standing beside Mike (Riley), and he looks at me and goes, 'Can you believe this?' And I said, 'No, I certainly can't.' I love reminiscing about it because it was so much fun.
"And now that it's that far way, all those years ago, when you start talking about it, boy, you can put yourself back in that situation real quick in your mind."
Cameron considers himself lucky to have played on three championship teams – 1984, '88 and '90 – when players who came after him failed to win even one.
That '90 title was the last Winnipeg would enjoy for 29 years.
Recalling seeing some of their teammates for the last time only adds to the feelings experienced this past week.
Cameron remembers Rodehutskors coming to Winnipeg for Benjamin's funeral back in 2007. Rodehutskors was sick with bone cancer at the time.
"I took him to the airport, and he said, 'Well, this is the last time you'll see me,'" Cameron recalled. "It was heart-wrenching, to say the least."
Heartwarming, then, is probably a good way to describe this latest reunion of champions. A reunion of brothers.
Of Hall of Famers.
pfriesen@postmedia.com
Twitter: @friesensunmedia