Blue Jays' Vladimir Guerrero Jr. finding more measured approach at plate – Toronto Sun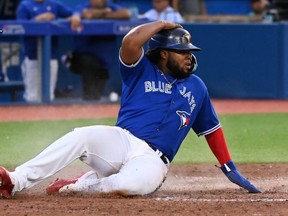 MINNEAPOLIS — The Vlad Guerrero Jr. show always has the potential to be worth the price of admission.
But has the value gone down for the ticket-buying fan?
Earlier in his career, watching Guerrero belt batting-practice home run after home run was can't-miss pre-game viewing.
Not so much any more.
Guerrero still gets his work in, of course, but does most of his hitting in the cages generally located in the bowels of major-league stadiums and away from the eyes of spectators. The approach is helping him focus on the mechanics that have made him such a multi-faceted threat at the plate — and not getting too homer-hungry while feasting on the soft-toss batting-practice offerings.
"I'm trying not to go outside to hit BP and am doing everything at the cages, working with my coaches," Guerrero said through interpreter Hector Lebron. "I'm trying to stay focused and trying to hit the ball back up the middle.
"I'm doing it to try to save energy. That's the biggest difference."
Though his 22 homers (heading into Friday's contest) were just little more than half of Yankee Aaron Judge's MLB-leading 43, the power is still very much in effect for the dynamic slugger.
Guerrero's three-run homer at Target Field on Thursday was a violent blast over the wall in left field, a ball that came off of his bat at 115.4 mph. His double earlier in the game was clocked at 105.4 mph. In total, Guerrero has 172 hard-hit balls (measured at 95-plus miles per hour), the second-most in the majors.
"I don't worry too much about my swing," Guerrero said. "It's more my timing. When I see that I'm fighting that at-bat timing-wise, I know I'm good."
It seems in some ways that the Jays have been waiting for much of the season to see Guerrero get on the type of tear he's become known for in his young career. Over the past couple of weeks, it seems like the 23-year-old is on the verge of doing just that.
"He's really close (to being at his best)," Jays manager John Schneider said of his all-star first baseman. "He's pretty damn good when he isn't there. It's just command of the zone, getting his pitches and not missing.
"He's being a little more selective right now. He's in a really good spot."
Guerrero feels it as well as he entered Friday's game riding a 15-game hitting streak, the second-longest active run in the majors and tied for the lengthiest of his career.
"I'm feeling great right now," Guerrero said. "It's a lot of ups and downs, but I feel healthy. Thank God I'm getting good results and, hopefully, it will continue that way."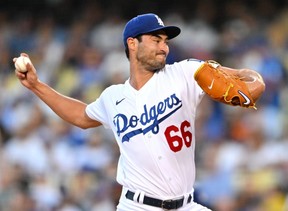 WHITE NIGHT
With a spot in the rotation opened up by his now-injured former Los Angeles Dodgers teammate, Mitch White is projected to make his debut here on Saturday against the Twins.
The right-hander will take Ross Stripling's spot in the rotation. After arriving in the Twin Cities on Thursday, he's pleased at getting into action almost immediately.
"With being on a new team like this and getting to meet everybody, that's the hardest part," White said on Friday. "But to get a chance to go and get the ball rolling, that's the best thing to do."
With Stripling likely unavailable with a glute strain, it sounds like the Jays plan to give White an opportunity to slide into the rotation.
"There's a lot to like," Schneider said of White. "His fastball plays up. He can spin it. I like his demeanour after meeting him briefly.
"He can do a variety of things in a variety of roles. He's going to be an important add for us for sure."
Schneider said the hope is for White to handle a reasonable workload with the idea of him "looking like a traditional starter."
What to expect from White, in his own words? "I think when I'm at my best, I'm making hitters uncomfortable and getting some soft contact."
PUT TO THE TEST
The Jays are viewing a four-game weekend series against the AL Central-leading Twins as a good gauge for the tougher portion of the schedule currently on the horizon.
Thursday's starter, Alek Manoah, said it felt like a playoff atmosphere at Target Field. Schneider agrees.
"Obviously, (the Twins) have a similar record and are a really good team with good players," the interim manager said. "It was a fun game and we broke it open late. I think we can expect more of that going forward with who we are playing and just where we are in the calendar."
AROUND THE BASES
The ongoing saga of George Springer's elbow issues continued with the centre fielder being kept out of the lineup on Friday. "It's a maintenance thing," Schneider said. "We're trying to build him up as much as we can and take it day-by-day." Springer has made just two starts in the past six games … The Jays entered Friday's contest with a 17-11 record against AL Central opponents … Meanwhile, on the farm, the Jays' top pitching prospect, Ricky Tiedemann had a solid double-A debut on Friday, allowing one hit over three innings while striking out five for the New Hampshire Fisher Cats.
Your Midday Sun
From our newsroom to your inbox at noon, the latest headlines, stories, opinion and photos from the Toronto Sun.
By clicking on the sign up button you consent to receive the above newsletter from Postmedia Network Inc. You may unsubscribe any time by clicking on the unsubscribe link at the bottom of our emails. Postmedia Network Inc. | 365 Bloor Street East, Toronto, Ontario, M4W 3L4 | 416-383-2300