British, Canadian veterinary giants merge – News – VIN – VIN News Service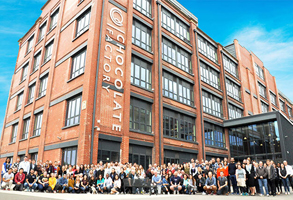 IVC Evidensia photo
IVC Evidensia headquarters are in a building called The Chocolate Factory, once occupied by the confection business Cadbury's (now owned by Mondelēz). Presumably coincidentally, Nestlé, the food and candy conglomerate, is a minority owner of IVC Evidensia.
Britain's IVC Evidensia, the world's second-largest owner of veterinary clinics, will soon be larger still with a major move into North America that lifts its global clinic count to about 2,000 across 17 countries.
The agreement to acquire Canadian chain VetStrategy, for an undisclosed sum, brings IVC Evidensia closer to Mars Inc. as the biggest owner of veterinary practices globally.
Private-equity-backed IVC Evidensia, based in Bristol, England, counts the Swiss conglomerate Nestlé (of cocoa fame) as a minority shareholder. Privately-held Mars, headquartered in Virginia in the United States, is known best for selling candy but is a giant in the veterinary industry, owning more than 2,500 clinics in 20 countries, according to its website.
VetStrategy owns Groupe Vétérinaire Daubigny and operates more than 270 hospitals across nine Canadian provinces. The private equity firm Berkshire Partners, based in Boston, acquired a majority stake in VetStrategy in July 2020; it will roll its investment into the enlarged IVC Evidensia.
The merger, pending customary regulatory approvals, will allow VetStrategy to "further invest in our network of veterinary clinics" and enhance services to customers, its chief executive, Orin Litman, said in a press release late last week.
"Having co-founded the business in 2006, I am immensely proud of our organization's growth and commitment to our key stakeholders and I am thrilled to partner with one of the leading veterinary groups in the world …" Litman said.
The deal comes at a time when booming demand for pet-care services is attracting a wave of investment in veterinary hospitals, even as asset values in the sector reach dizzying heights.
Companies such as IVC Evidensia are growing aggressively because their strategy depends in part on saving on costs through scale. Much of the deal activity in the veterinary realm is being driven by private-equity firms, which typically use high levels of debt to acquire businesses, then run them leaner before selling them at a profit.
Plans for IVC Evidensia have been in flux recently. Its largest investor, Swedish private equity group EQT, had planned to publicly list the company on the London Stock Exchange. However, in a change of heart, EQT in February said it, Nestlé and a technology-focused group called Silver Lake agreed to pour in another €3.5 billion (US$4.1 billion) of private capital, valuing the entire company at €12.3 billion (US$14.6 billion) — a figure described as "stratospheric" by a financial data firm, 9fin.
In another demonstration of how highly investors are valuing the sector, the share prices of two of the world's biggest publicly traded veterinary-hospital companies — CVS Group and Pets at Home, both of Britain — have rocketed to record highs in recent months amid upgrades to their expected profits that are pinned, at least partly, on a pandemic pet boom.
In a sign that rapid growth comes with risks, CVS noted that its annual staff vacancy rate (the number of veterinary vacancies compared with the total number of roles) had risen to 8.3%, up from 6.9% in the previous fiscal year. The widening deficit, which puts pressure on CVS to raise salaries to attract talent, came "in light of the expansion in the number of new roles created to service the increase in demand," it said.
Mars, as a private company, doesn't have to disclose its financial performance. However, last month it announced that it was investing $US500 million in its North American veterinary businesses by 2025. The move involves introducing a US$15 per hour wage floor that will be fully in place by the end of 2022, improving educational and career development pathways for veterinarians, and providing student-debt relief, Mars said.
In Canada, IVC Evidensia's move on VetStrategy shakes up a market that had already attracted attention from large U.S. corporations. Mars, through its VCA Animal Hospitals group, owns "100-plus" practices in Canada, according to its website. National Veterinary Associates, a U.S.-headquartered company acquired in 2019 by the German private equity firm JAB Investors, also has a large presence there, with 61 practices listed on its website. The total number of practices in Canada, as of 2020, was around 3,300, according to the Canadian Veterinary Medical Association.
IVC Evidensia already has a presence in Canada, having acquired in May a "significant share" of a French pet funeral company, Veternity, which has expanded into various countries, including Canada and the U.S.
VIN News Service commentaries are opinion pieces presenting insights, personal experiences and/or perspectives on topical issues by members of the veterinary community. To submit a commentary for consideration, email news@vin.com.