Bruins players have some things to say about club's signing of Mitchell Miller … Leafs lose Aube-Kubel on waivers – Toronto Sun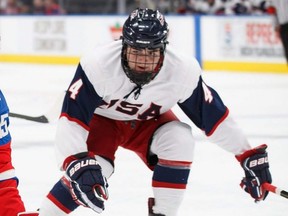 The Boston Bruins aren't happy about the team's signing of Mitchell Miller. 
A day after the Bruins announced they had signed the defenceman to a three-year entry-level contract, the players, following their morning skate on Saturday at Scotiabank Arena, had their say.
Your Midday Sun
From our newsroom to your inbox at noon, the latest headlines, stories, opinion and photos from the Toronto Sun.
By clicking on the sign up button you consent to receive the above newsletter from Postmedia Network Inc. You may unsubscribe any time by clicking on the unsubscribe link at the bottom of our emails. Postmedia Network Inc. | 365 Bloor Street East, Toronto, Ontario, M4W 3L4 | 416-383-2300
The Bruins, winners of seven in a row and in first place in the National Hockey League with a record of 10-1, and Maple Leafs renew their rivalry on Saturday night.
The 20-year-old Miller, who racially bullied a Black, disabled classmate in middle school and later pleaded guilty to one count of assault, was drafted by the Arizona Coyotes in 2020 but then had his draft status revoked.
"The culture we built here goes against that type of behaviour," Bruins captain Patrice Bergeron said. "We're a team built with character and character people. What he did is unacceptable and we don't stand by that. In this locker room, we are all about inclusion, diversity, respect.
"My understanding is (Miller) is going to put in the work and development programs and community programs to better himself. It's up to him to do that. It's a hockey operations decision.
"Hopefully, there is growth and change (in Miller). If it's the same 14-year-old walking into this locker room, he would not be accepted and wanted and welcomed. 
"Our culture is not going to change. It's something that I am proud of, something we have worked hard for and we don't need to change that. The changes are from the individual himself."
Veteran forward Nick Foligno, like Bergeron a long-respected voice in the game, didn't sugar-coat his feelings. 
"It's tough, it's a hard topic," Foligno said. "The organization is not going to do something that would jeopardize (the team's culture), but in saying that, it's not something that anyone in this room stands for.
"It was a tough thing to hear for our group. I'm not going lie to you. I don't think any guy was too happy because of how proud we are to say that this is a group that cares a lot about ourselves and how we carry ourselves and how we treat people."
Miller and another teenager were accused of making the victim, Isaiah Meyer-Crothers, eat a candy push pop after wiping it in a bathroom urinal, and surveillance video shows them kicking and punching Meyer-Crothers. 
Meyer-Crothers' mother, Joni, told The Arizona Republic that Miller started bullying her son in the second grade and used racial epithets. There never has been an apology from Miller, Joni Meyer-Crothers said, other than a court-ordered letter.
On the ice, the Leafs (5-4-2) will attempt to build off a win against the Philadelphia Flyers on Wednesday. Ilya Samsonov will start in goal and defenceman Timothy Liljegren will make his season debut after recovering from hernia surgery.
"They have been a good team for a long time now," Leafs captain John Tavares said. "They are solid throughout their whole lineup. It will be a great test for us. We have to play the way we need to play to make it hard on them."
Leafs coach Sheldon Keefe was hopeful that the team would not lose forward Nicolas Aube-Kubel on waivers. 
But the Washington Capitals on Saturday claimed Aube-Kubel, ending his brief time with the Leafs.
RECOMMENDED VIDEO
We apologize, but this video has failed to load.
After signing a one-year contract with Toronto in July to bolster the team's forward depth, Aube-Kubel was a disappointment for the Leafs and was scratched in five of the past six games. 
"We really like the player, it hasn't worked out for him the way we had foreseen," Keefe said. "He has not played to his own expectations. We do like the player and we'll have to see how (the waiver process) shakes out."
Hockey Fights Cancer will be the theme for game, with the Leafs wearing special warmup sweaters that will be auctioned off, with proceeds going to cancer charities.
"It hits a little bit differently this year with our connection to (2020 first-round pick) Rodion Amirov and his fight (with a brain tumour) that he is in," Keefe said.
Keefe had no update on Amirov, other than that the 21-year-old has returned to Russia after spending time with the Leafs. Will Amirov play this season?
"He has a big fight on his hands here," Keefe said.
twitter.com/koshtorontosun