Competitiveness of Avalanche forward Nazem Kadri has turned him into a hot commodity – Toronto Sun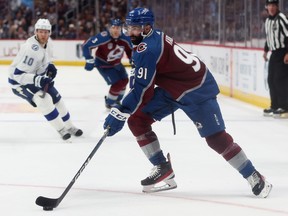 TAMPA — The head coach who once criticized Nazem Kadri for being an out-of-shape couch potato and compared him to "almost like somebody with a really bad drug addiction," is not surprised that he has come out the other end and finally become the player the Toronto Maple Leafs always hoped he would be.
Even if it did take him more than a decade for it to happen.
"I thought it was important to play the long game with Naz," said Anaheim Ducks bench boss Dallas Eakins, who coached Kadri for his first three years in the minors. "There were things we liked, but there were bad habits that he needed to break. I truly loved that kid. He's one of those kids that I still stay in touch with to this day.
"I still laugh at the time in training camp when I said he wasn't in the greatest shape. I wasn't going to lie. But everybody went crazy. I chuckle at it now. I knew he was going to make it. He's as competitive as you get. For me, that's the most important thing that you need."
That competitiveness has been on full display in these playoffs.
We saw it in the second round, when Kadri played through a barrage of racist online comments to score a hat-trick in Game 4 after injuring St. Louis Blues goalie Jordan Binnington in the previous game. And we have seen it again in the Stanley Cup final, when Kadri returned early from a broken thumb and scored the overtime winner against the Tampa Bay Lightning in Game 4.
For Eakins, it's a trait of Kadri's that has always been there. But in the beginning, it had to be teased out at times.
"I wasn't worried," he said of whether Kadri would realize his potential as a seventh-overall pick. "Where you get worried as a coach is if there's pushback or the habits aren't changing or the kid doesn't have a real passion for the game. There were some ups and downs, but his passion to play in the NHL was off the charts."
That's why Kadri, at the ripe age of 31, is headed for a huge payday this summer as a pending unrestricted free agent. It comes after a breakout season in which Kadri scored 28 goals and 87 points in 71 games. But it also comes during a playoffs in which Kadri has finally stayed out of trouble and put it all together.
"If you want to break him down, he's a gamer. He is truly a gamer," said Eakins. "When the lights come up and they're singing the anthem, it's go time for him. He might not be the fastest or the most skilled out there, but he's going to be in the top two or three when it comes to being the most competitive."
As Eakins noted, there might be bigger names and more skilled players heading to the market, players such as Filip Forsberg, Evgeni Malkin or Claude Giroux. However, none bring to the table the number of intangibles that Kadri has in his growing arsenal. He's a shift-disturber. A motormouth. But he's also a player who has a knack for creating big moments.
"If his team is having a rough night, you just know he is going to do something to wake you up," said Eakins. "That's the big thing with Naz. You can sit here and talk all you want about skill set and skating and hockey smarts and analytics. The thing that everybody is looking for is the thing that is so hard to measure. You have to see it to truly understand how competitive he is."
With his blend of skill and snarl, Kadri is looking like he could become another Brad Marchand — a player who spent the first decade of his career as a part-time pest and inconsistent top-six forward, but who is now realizing his potential as someone everyone wants on their team.
"I've said it before, Naz is a gamer," said Colorado teammate Andrew Cogliano. "He's a guy who in these situations you want in your room and you want on your team."
"The thing with Naz this year is the consistency and the competitiveness in his play," said Avalanche head coach Jared Bednar. "You mix and match that with his skill and his ability to create offence and score goals and still be a solid defender, and it kind of tells you what he brings to our team. It's a little bit of everything."
Well, its not quite everything. Kadri, who was traded out of Toronto in 2019 because he was considered a playoff liability after two straight years of first-round suspensions, has managed to straddle that line between physical and foolish — though just barely.
After all, that overtime goal he scored in Game 4 wasn't without Kadri's usual sense of controversy.
"I yelled at my wife, 'Where did he come from?' " said Eakins, referring to how Kadri had left the bench early to get the jump on an illegal line change that went uncalled.
It was, along with the daring deke he made to go around defenceman Mikhail Sergachev before fooling Andrei Vasilevskiy with a shot that got buried in the net, yet another example of a player who is willing to do whatever it takes to win.
"It's a brave play," said Eakins. "A lot of guys in the league will take that puck and turn up and wait for the next wave or take it behind the net. Not Naz. He cut to the middle and went hard. He was determined. There's a difference between wanting it and really wanting it."
mtraikos@postmedia.com
Your Midday Sun
From our newsroom to your inbox at noon, the latest headlines, stories, opinion and photos from the Toronto Sun.
By clicking on the sign up button you consent to receive the above newsletter from Postmedia Network Inc. You may unsubscribe any time by clicking on the unsubscribe link at the bottom of our emails. Postmedia Network Inc. | 365 Bloor Street East, Toronto, Ontario, M4W 3L4 | 416-383-2300