Edmonton Oilers dismantle Calgary Flames to take control of series – Toronto Sun
The Oilers didn't just beat the Calgary Flames, they dismantled them in a lopsided Game 3 triumph that left the visitors rattled and embarrassed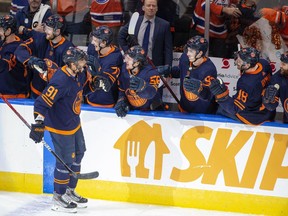 Sunday night in Edmonton wasn't so much a playoff game as it was a party, with jubilant fans celebrating the sweetest public beating the Oilers have ever administered in Rogers Place.
They didn't just beat the Calgary Flames in Game 3 of their playoff series, they dismantled them in a lopsided show of force that left the visitors rattled and embarrassed, searching for answers they might not have.
Edmonton's big guns simply ran Calgary's show in a 4-1 victory. Evander Kane had a natural hat-trick, Leon Draisaitl had four assists. Connor McDavid had three assists on the night for nine points in three games.
"We set out with a game plan to assert our game on the other team, like we do every night," said Oilers coach Jay Woodcroft. "But it's a mindset. When your best players are leading the way mindset-wise, and asserting our game plan on the other team, it bodes well for our entire game."
It was deafening inside the building, but you could still hear the gasps coming out of Calgary.
"Oh oh."
With the Oilers up 2-1 and getting stronger by the game, Calgary is in the desperate position of having to win three of the next four games against a team that just outscored them 8-1 over the last 97 minutes.
It was loud all night, but the Oilers blew the lid blew off the place in the second period:
Zach Hyman from Draisaitl and McDavid at 52 seconds.
Kane from Draisaitl at 6:58.
Kane from McDavid and Draisaitl at 7:51.
Kane from McDavid and Draisaitl at 13:58.
It was a slaughter. The shots were 30-11 when Kane made it 4-0 and it was the third time in three games that the Oilers went on a four-goal run.
Flames goalie Jacob Markstrom got the hook after 40 minutes. He's given up 17 goals (15 of which counted) in two games and two periods against Edmonton.
It could have been worse, but with the game won and the point made, Edmonton called off the dogs in the final period.
It was a dominant display led by the best player in the world. McDavid became the first player in NHL history with nine multi-point games in the first 10 games of a playoff season thanks to yet another night when he was so much better than everyone else it didn't seem fair.
He's got the Flames so freaked out they took a hooking penalty on him in the offensive zone to try and prevent him from playing defence.
"He's been on fire in the playoffs and has taken his game to the next level," said Kane. "He's not just doing it on the scoresheet. He is physical, he is involved. he is winning puck battles along the wall, both in the defensive and offensive zones. He is a dominant force out there."
The Flames were as much in awe as anyone to see their most frightening adversary elevate his game to place that no one else can touch.
"We let one guy dominate the game," said Flames defenceman Rasmus Andersson. "We just have to stop him with all five guys that are on the ice, six including Marky. We have to stop him as a unit. One individual can't stop him. We just have to stop him together."
Then there was Draisaitl's four assists in one period, which is also a new NHL record.
"He is getting better and better each day and you are seeing it in his play," said Kane. "He has been great for us this series and he just seems to find another level each and every night."
And for Kane, it's his 10th goal and second hat-trick of the playoffs. Counting the regular season he has 32 goals in 43 games with Edmonton.
"I'm just happy to be part of this group," he said. "I'm just trying to do my part to do what I can for t his team and help us be successful."
The only thing Calgary could do in response was run Edmonton's goalie.
Flames winger Milan Lucic hit Oilers goalie Mike Smith from behind with 11:25 left in the third period, leading to a game misconduct and a rather bizarre scenario in which an over-zealous concussion spotter pulled Smith from the game, against his will, forcing Mikko Koskinen to come in cold for 4:15 until Smith returned.
"I don't really know what happened, to be honest," said Smith. "I was out playing the puck and then all of a sudden I am getting buried into the boards.
"It's not an ideal situation to leave a game in the third period with 11 minutes left. I get the reason for it, but I think the the player should have some say in that. It is what it is. I just tried to get back in there as soon as I could."
The Oilers can put the series in an almost inescapable stranglehold with a win in Game 4 Tuesday.
"I think we learned a valuable lesson last series when we got up 2-1," said Smith. "We probably played our worst game in Game 4. We want to learn a lesson from that and not let it happen again and keep doing what we are doing in this game tonight and keep pushing this thing forward."

@rob_tychkowski
rtychkowski@postmedia.com
Twitter.com/rob_tychkowski
rtychkowski@postmedia.com
Your Midday Sun
From our newsroom to your inbox at noon, the latest headlines, stories, opinion and photos from the Toronto Sun.
By clicking on the sign up button you consent to receive the above newsletter from Postmedia Network Inc. You may unsubscribe any time by clicking on the unsubscribe link at the bottom of our emails. Postmedia Network Inc. | 365 Bloor Street East, Toronto, Ontario, M4W 3L4 | 416-383-2300