Edmonton Oilers rain down on the Hurricanes in 6-4 win – Toronto Sun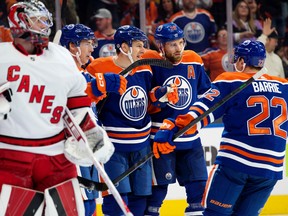 When a hurricane is heading your way, it's usually wise to lock the doors, board up the windows and hide in the basement.
Running for cover wasn't an option for the Edmonton Oilers Thursday night at Rogers Place, however, so they had to meet the incoming storm head on.
Your Midday Sun
From our newsroom to your inbox at noon, the latest headlines, stories, opinion and photos from the Toronto Sun.
By clicking on the sign up button you consent to receive the above newsletter from Postmedia Network Inc. You may unsubscribe any time by clicking on the unsubscribe link at the bottom of our emails. Postmedia Network Inc. | 365 Bloor Street East, Toronto, Ontario, M4W 3L4 | 416-383-2300
And, by night's end, the Oilers had knocked the wind out of the previously undefeated Carolina Hurricanes 6-4 on the strength of four points each from Ryan Nugent-Hopkins and Connor McDavid and the kind of 60-minute tenacity they'd been searching for since the season began.
"Good teams need to rise to the challenge of playing other good teams," said Nugent-Hopkins, who had a goal and three assists. "We knew what to expect tonight, that they are a good team, that they play hard and don't give up a whole lot.
"We had that mentality going in, of keeping it simple and just trying to outwork them every shift. I'm pretty proud of the group in here to bounce back after a couple of (losses). There was no panic in here."
The Hurricanes aren't necessarily the team you want to be facing when you don't quite have your house in order, except maybe if you have a reputation for playing up to the level of your opponent, which the Oilers did in snapping their two-game losing streak and improving to 2-2 on the season.
"Being 2-2 is nothing to write home about, but we'll take it," said McDavid, who had an empty net goal to go with three assists. "It was a big win for our group. It was a great test against a really good Carolina team and they gave us everything that we could handle.
"Soup (Jack Campbell) made some big saves and our power play did its thing (2-for-5). It was a big win, a bit ugly, but we'll take it."
Ugly in the sense that the Oilers gave up four goals and had leads of 3-1, 4-2 and 5-3 and couldn't seal the game for good until 19:50 of the third period. But after hanging six goals on a team that only allowed one goal in each of its first three wins, that's nit-picking.
"The fans certainly got their money's worth on the goals," said head coach Jay Woodcroft. "We're in October, there is some scrambling with most teams, but the most important thing is we found a way to win against a very good hockey club, a team that hadn't lost yet this year."
 
The first order of business was to try and stake themselves an early lead so they could settle into their own game instead of chasing the other team. In the first three games of the season the Oilers gave up the first goal and trailed by at least two goals each time.
That was the root of their 1-2 start.
This time Zach Hyman's power play goal at 8:22 got Edmonton on the board first.
"What I would put the focus on is we played a pretty good first period," said Woodcroft. "We liked a lot of the things we did and found ourselves up on a really nice goal. It allowed us to settle in and play the game."
And it was a hell of a game. Andrei Svechnikov tied it 98 seconds into the second period, Edmonton pulled ahead 3-1 on a shorthanded goal from Ryan McLeod at 8:20 and and the first of the season from Evander Kane at 10:21 and Carolina closed it to 3-2 at the second intermission on another one from Svechnikov.
Things got wild in the third period, with Nugent-Hopkins picking up a goal to go with his two assists at 1:24, Svechnikov completing the hat-trick at 3:38, Leon Draisaitl scoring at 5:16 and Martin Necas at 8:55 to make it a one-goal Oilers lead with 10 minutes to go.
Nothing like a good, old fashioned offensive slug-fest.
"That's what happens when you play against a good team, they don't give in, they force it, they push it," said Hyman. "But, on the flip side, good teams know how to respond and push back themselves. I thought we were able to do that multiple times in the game."
It got dicey at the end, including a Carolina breakaway with 1:09 to go, but McDavid sealed it with the empty netter.
LEAF SAVERS
The goaltending battle featured a pair of former Toronto Maple Leafs in Campbell and Freddie Andersen.
Campbell was off to a hot and cold start with the Oilers, making 33 saves in a third-star effort against Vancouver and then getting the hook after four goals on 11 shots against Calgary. Andersen, meanwhile, came in 2-0 with two goals against and a .964 save percentage.
So it looked like it might be an edge for Carolina in the goaltending department, but Campbell had a strong 36-save night in the Edmonton nets. He made some huge saves when the Oilers needed them most to keep a hard-charging Carolina team at bay.
"He's solid back there," said Hyman. "He made all the timely saves we needed him to make, he was great."