GOLDSTEIN: Pandemic and Putin killed the war on climate change – Toronto Sun
Publishing date:
Jun 25, 2022  •  15 hours ago  •  3 minute read  •  25 Comments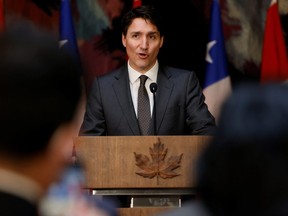 Global events since the start of the COVID-19 pandemic in early 2020 have demonstrated the futility of governments making empty promises to cut greenhouse gas emissions almost in half by 2030 and achieve "net zero" by 2050.
Prime Minister Justin Trudeau is at the forefront of making these unrealistic and fanciful promises, but he's hardly alone as similar commitments are being made by governments all over the world.
The reality, however, is that the only time global emissions have plummeted in the modern era were because of two events that had nothing to do with United Nations climate treaties or carbon taxes.
The first was the global recession caused by the subprime mortgage derivative scandal in 2008-09 that led to a global credit freeze, which began with massive financial fraud on Wall Street, for which almost no one went to jail.
In recessions, emissions go down because people have less money to buy goods and services, almost all of which are produced using energy generated from fossil fuels — oil, natural gas and coal.
The second was the pandemic which caused a sudden and massive reduction in domestic and international trade and travel due to pandemic restrictions on the economy imposed by governments.
Similarly, global emissions are skyrocketing now because of pent-up market demand for goods and services as economies begin to recover from the pandemic, combined with Russian President Vladimir Putin's invasion of Ukraine.
Given that Russia is a major supplier of oil and natural gas, industrialized countries from Asia to Europe are scrambling to increase their production and exports and imports of oil, natural gas and. coal.
The use of coal, the most carbon-intensive fossil fuel, is increasing dramatically, particularly in Asia and Europe, rendering all promised global emission cuts for the future, moot.
Led by Germany, many European countries are firing up abandoned coal plants out of fears global energy supplies are dwindling, leading to fuel shortages this winter.
All of which means global greenhouse gas emissions are going to keep rising dramatically for the foreseeable future, however many countries, including Canada, announce unrealistic emission reduction targets for 2030 and 2050.
The reality is that in less than two years — from the start of the pandemic in March 2020 to Putin invading Ukraine in February 2022 — every previous commitment from every national government that signed the Paris climate accord in 2015 about reducing their emissions by 2030 and 2050 have become meaningless because of geo-political and market forces the Paris agreement never imagined.
We apologize, but this video has failed to load.
Ironically, the global surge in energy prices, which is fuelling inflation, is consistent with the aims of Trudeau's carbon pricing policies.
That is, increasing the price of oil and natural gas so we'll use less gasoline to drive our cars and less natural gas to heat our homes in winter.
That's exactly what the PM and his various and sundry environment ministers want to happen.
It's just happening a lot faster than they anticipated through their carbon taxes — which is why they have so little to say about skyrocketing energy prices fuelling inflation, given that high energy price were a part of their plan.
Then again, if the Bank of Canada raises interest rates to combat inflation to the point where it triggers another recession, Canada's use of fossil fuel energy will decrease.
Either way, Trudeau will get what he wants.
The rest of us, as always, will be paying the bills.
From our newsroom to your inbox at noon, the latest headlines, stories, opinion and photos from the Toronto Sun.
By clicking on the sign up button you consent to receive the above newsletter from Postmedia Network Inc. You may unsubscribe any time by clicking on the unsubscribe link at the bottom of our emails. Postmedia Network Inc. | 365 Bloor Street East, Toronto, Ontario, M4W 3L4 | 416-383-2300