Hall of Famer Fogolin 'set the tone for everybody, on the ice and off' – Toronto Sun
"He was the most respected guy in the room by far … he set the tone for everybody, on the ice and off"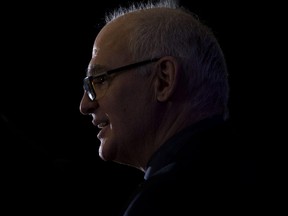 Lee Fogolin has always been good with wood, whether it was the short stick-chop to an opposing forward trying to go wide, taking aim at the few bare inches between the short cuffed gloves and the forearm to sometimes render the attacker's hand numb, or building the sturdy bench where the Edmonton Oilers players worked on their sticks before games.
The rough-hewn former Oiler captain and defenceman says things were "a lot more liberal and you could get away with stuff" back in the '80s.  And he was just as crafty off the ice as a master carpenter who got his love of woodwork from dad Lee, also an NHL defenceman. He owned a service station in Northern Ontario but also built cottages on Lake Superior. His boy picked up enough pointers to where he later lovingly constructed a dining room table out of eight different kinds of wood, after first volunteering to build the stick bench, then he made custom-made homes as a builder after retiring.
Your Midday Sun
From our newsroom to your inbox at noon, the latest headlines, stories, opinion and photos from the Toronto Sun.
By clicking on the sign up button you consent to receive the above newsletter from Postmedia Network Inc. You may unsubscribe any time by clicking on the unsubscribe link at the bottom of our emails. Postmedia Network Inc. | 365 Bloor Street East, Toronto, Ontario, M4W 3L4 | 416-383-2300
It was Fogolin's idea for the ping-pong table that was a rollicking piece of furniture in the Oilers dressing room in the '80s and into the '90s.  One day, he went to a store in a mall, bought one, strapped it to the top of his wife Carol's car and carted it back to the rink because he felt the young team needed some bonding.
"I can still see Semenk (the fearsome Dave Semenko) playing in his housecoat," laughed Fogolin, who may have been overshadowed on the Oilers blueline with Paul Coffey lighting it up and Fogolin's partner and apprentice Kevin Lowe rising to NHL prominence but his place in their early NHL fabric cannot be understated.
It's why he's part of the Oilers Hall of Fame Thursday with his name going up on the ring of honour above the PCL Loge Level at Rogers Place
Nobody played hurt like Fogolin played hurt although Lowe gave him a run for his money playing after slicing open the palm of his hand with an Exacto knife trying to take some tape off his stick.
But Fogolin was the glue that held the Oilers together, even as the 67-year-old downplays his importance saying "he's extremely humbled" by the Hall of Fame honour.
"He was the most respected guy in the room by far … he set the tone for everybody, on the ice and off," said former Oiler equipment manager Barrie Stafford.
Fogolin came to the Oilers in the 1979 expansion draft after five years with the Buffalo Sabres, after they picked him 11th in the '74 draft. "I didn't think I'd get drafted because I'd been hurt (junior in Oshawa) and then I get this call when I was pumping gas, and it's (Sabres' GM) Punch Imlach. I remember going 'whoa,''' said Fogolin.
Fogolin played hurt and well and often (he only missed nine games over his first seven Oiler seasons), even though he had trouble lifting his left arm over his shoulder, something Lowe certainly noticed.
"Fogey had a toughness to him, a durability, his love of the game … it all rubbed off on me," said Lowe.
The shoulder problems started in Buffalo.
"I had surgery, and it was never right. (Wife) Carol and I would go back to Ontario in the summers and we would have a pulley in the tree, trying to stretch it. I really had a mobility issue with the left side of my body.. I had to strategize on what to do and how to position myself. I also had to reposition how I held my stick," said Fogolin.
"My left wrist…I fractured that four times, too, and the last one was a compound fracture when I was playing junior hockey."
Fogolin also damaged his left eye in junior.
"One guy on our team shot a puck in practice, it went off the crossbar and hit me in the eye. They thought I was going to lose it. Everything seemed to be on my left side," he said.
Article content
Left to his own devices, he managed. And his toughness was legendary. He did yank the cap off an infected tooth with a sharp curtain rod hook in Hartford in the early 80s.
"The hook? It was the only thing I could find in the hotel room," he said.
In the '85 Cup final against Philadelphia, he was held together with hope and duct tape.
"I got hit in the right thumb in practice and had a spiral fracture and needed it frozen every period. The night before Game 5, I couldn't touch the right side of my face. Carol said 'get in the car, we're going to the hospital.'I had a ruptured ear drum. I went home and was back at 6 a.m. where they drained it. I don't remember much of the game it hurt so much," he said.
"My wife Carol, I owe my career to her. The ice-packs at night, the quiet afternoons (sleeping). Driving me to hospital. I remember her getting up at 6 in the mornings to drive myself and Kevin and Mess (Mark Messier) to the airport," said Fogolin.
One last Fogolin story:
He got stuck in a Long Island hotel elevator with a bunch of teammates, all with bags and winter coats. Fogolin yanked the door open with his bare hands so they could get some air. Fogolin says he "probably panicked" but if that doesn't show how strong he was, not just of character, nothing does.