How to Enjoy the 2021-2022 Toronto Raptors (even if they lose a lot) – Raptors Republic
In the dog days of summer, I pondered the existential purpose of a championship-burdened fan.
It's perhaps an arrogant thing to say, but I am not so sure, deep down, that pure, unadulterated success is solely what sports fans want.
Genuinely, if Toronto crushed every single team by 30 from October to June with nary an iota of doubt of winning for all 3778560 seconds of an NBA season (yes, I just calculated the number of seconds in a 98-game-winning season [without OT]), you'd be bored as shit.
Heck, I'm willing to bet that an oil field of Houston Rockets fans hated the pinnacle of Harden-ball. My God, that was tough to watch. Give me the early season exit over that day-in-day-out Clockwork Orange misery.
Doubt me?
After you read this, think about sitting down to a game, beer in hand, popcorn bowl in lap, and watching the Raps without even looking at the score. You have 82 games worth of content to give the thought exercise a whirl. Holler at me on how dumb or thought-provoking that was.
Obviously, we want to win (despite this article, I am definitely still going to be cussing at the TV in the 4th quarter with sweat trickling down my fingertips down 3 with 2 minutes left).
My point still stands though. On a scale of entertainment value, this Raptors team has less to do with outcome and more to do with experience.
And, I'll tell you why.
Perspective 1: Hustle, Bustle, Scuffle, and Tussle
Basketball is three things: an art, a science, and an overly-supervised Royal Rumble.
I was once blessed with sitting near-courtside at a Raptors game. There is so much violence.
It's obviously not as explicit as hockey or football or lacrosse (Christ, they're tough), but the grabbing and holding and chipping and chopping and hip-checking and colliding and boxing-out and slamming is unrelenting.
Some teams and players do it more intentionally and overbearingly than others. There's a reason for Tom Thibodeau and Dwight Howard's infamy. There's also a reason why size – height and weight and strength – are so integral to sustained NBA success. It's a punishing sport.
The Raptors, as a defence-first team, are going to be more Thursday Night Smackdown (is that still a thing? [insert People's Eyebrow inquisitive look here]) than Swan Lake compared to others.
It's not their lack of offensive prowess that, by default, makes it so – though Pascal and OG's strong-arming, haphazard way of scoring doesn't help. Nor is it simply that everyone's athletic and switchy.
It's the fact that the core of this team, under the tutelage and mentorship of Nick Nurse, Kyle Lowry, Serge Ibaka, Marc Gasol, Kawhi Leonard (likely by doing than saying), and Danny Green, understand that success at its foundation is defensive resilience. Regardless of what's going on at the other end, make your final stand on D.
Add a barrel of Scottie Barnes zeal, a hop-and-a-step of Gary Trent Jr. swagger, some Goran Dragić Calvinist, don-give-a-fuck 'tood, and bottomless Precious Achiuwa gumption and we've got ourselves one dense pack of cigarettes.
I am already giddy imagining the litany of defensive moments: Full court presses; Half-court traps; Blitzed pick and rolls; Doubled corners; Squished posts; Strips, rips, and interceptions, oh my.
They'll be flying about harassing players like a legion of Tie-Fighters swallowing up a cluster of unprepared Rebel fighters (seriously, why did they always fly directly towards the enemy with, like, no tactical formation whatsoever?).
Subs at the 6 min mark: Goran, Scottie, Precious, and Yuta Watanabe [and Malachi Flynn] roll in to hold up opposing benches like their extorting store owners.
Goran steps on the court wearing a trench coat buttoned tight, popped collar obscuring his face, fedora tilted low. Three tall, long-armed henchmen linger nearby; Malachi is off to the side whirling a baseball bat about whistling menacingly. Goran looks towards Saban Lee at half court, and quietly demands, in his languid Slovenian accent: "Give me the ball."
Scoring will be piddly.
Defence vibrant, treacherous, and mafioso.
Perspective 2:

Our Pride and Joy
This season we finally get to watch our little hatchlings jump the nest.
Momma Kyle's gone. No more deference. No more reliance. No more regurgitated worm food.
Anyways, I thought this was a hell of an answer by Fred VanVleet.

Re: Pascal & his frustrations with not being "the guy" last season. pic.twitter.com/h3n3ASyXmz

— Esfandiar | Es (@JustEsBaraheni) September 27, 2021
That's it, right there. You see, in mind and game, how much of an impact Kyle had on this team – good and bad. Now, it's their turn to fly.
That's not new as far as player development and team evolution, as concepts, are concerned. What is novel and wonderful, is that the Toronto Raptors' core is made up of a bunch of dudes few teams had interest in or thought would become something of anything.
OG and Pascal were drafted late in the first round. FVV and Chris passed up altogether.
It's not atypical for scouts and management to take big fat misses in the draft. There are even greater success stories to date: Rudy Gobert and Nikola Jokić, for example.
But, as far as I know, there's never been a core of "after-thoughts" who started out together and reached the level of cohesive potential Toronto possesses.
It's remarkable to have witnessed these guys blossom into elite basketball players together. And how joyful it's been to see them establish themselves in their own ways with their own identities – from bench mob, to supplementary scorers, to deservedly-well-paid, All-Star-adjacent (as Lou put it in his podcast with Samson Folk) leaders.
Now, after all these years of growth, we get to see them launch. Throw in Khem Birch (undrafted) and Gary (37th overall) and you have a starting lineup of the overlooked.
We're not just watching a professional sports team compete. We're witnessing deliverance.
A troop of men disproving doubters, overcoming Las Vegas odds, analytics, and know-it-alls.
Who's to say they won't do it again? The detractors have this team barely scraping by in the East. RaptorRepublicans are only a tad more optimistic (except for the devotedly hopeful Adam Robles and Mac).
Fine. Whatever.
Player achievement does not happen in a vacuum season-by-season. We have to acknowledge that these Merry Men are already tremendous successes just by virtue of how far they've come. Now, with Robin Hood gone, we can truly celebrate them in their insurgence against the NBA's aristocracy.
Perspective 3:

Scottie and All His Incarnations
There's truly something already so captivating – of which I spoke about in 10 things I dig and don't dig about the Toronto's Offseason – about Scottie Barnes.
Maybe, as I exit young adulthood into … ugh … adulthood, I'm invigorated by his unrestrained, sprightly energy. Maybe, as an animated recreational basketball player and coach I LOVE players who LOVE to battle and openly DESPISE their opposition – only until it's beer o'clock. Or, maybe it's that enchanting smile: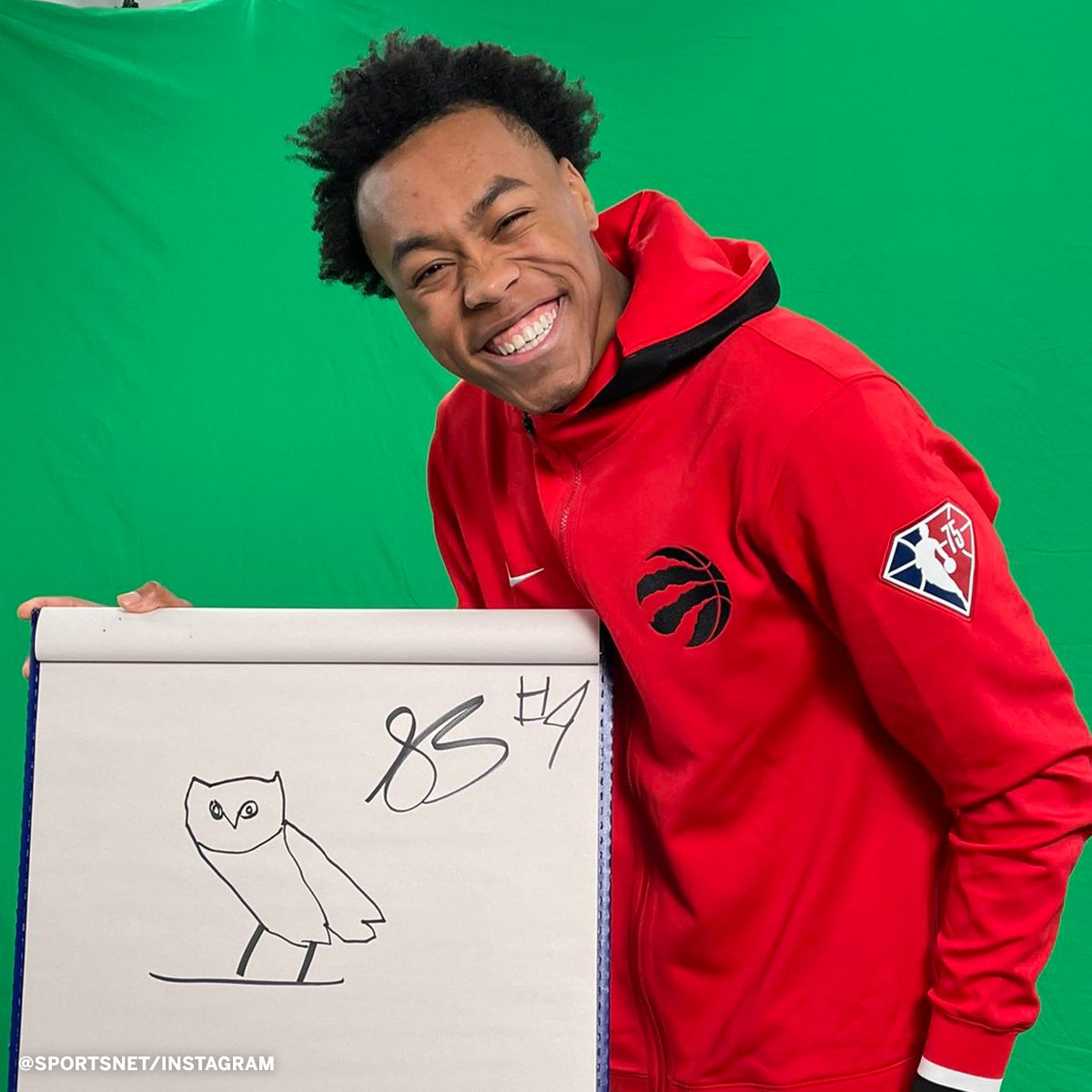 Or, maybe it's the on/off intensity/fun button:
Vibe check…

… Still immaculate pic.twitter.com/M73Q53BWPj

— Toronto Raptors (@Raptors) September 29, 2021
Or, maybe, it's this sneaking suspicion that he may become an [Toronto's] All-Star for many years to come.
I dunno.
Whatever it is – it might be all of it – Scottie gives me feels that few players in my lifetime ever have: Michael Jordan, Kevin Garnett, Kobe Bryant, Draymond Green, Kyle Lowry, Dennis Rodman, Tony Allen, Gary Payton, Metta World-Peace (when restrained). Players hot-wired to play at their highest gear on NOS, non-stop, with a joyful ire in their eye that scares us normal competitor types.
Scottie's not the mean son-of-a-gun that some of those guys are, but, seems to me, he's got the same I'm in your head-and-shorts-all-48-minutes mettle. If you didn't enjoy watching defensive possessions before – other than Kyle Lowry's post play – you're going to now.
I've truly never seen a man of Scottie's size so easily and so willingly guard the point of attack. That willingness is infectious; it also allows FVV, OG, and Pascal to conserve and provides undersized bigs relief. At times, he'll do the exact opposite and manage the five when the Raps face teams leveraging pace or the pick and roll.
Trust me, if you turn the TV on just to watch Scottie play D, you'll be satisfied. He's a player-type and style the NBA's rarely seen before. It's why Masai drafted him. Ben Simmons certainly comes to mind, but the tempered storm brewing beneath Scottie and his dedication to improving his shooting make him unique:
Scottie Barnes says he's tweaked his shooting form by working to have the ball come of his index and middle fingers and moving his elbow a little closer to his body; feels comfortable as the reps add up.

— Michael Grange (@michaelgrange) September 28, 2021
Perspective 4:

Fashion Free Rolls

OG's playin' if he thinks he's some avant-gardist in the NBA fashion scene. He might have been Toronto's once upon a time – though, we all knew it was Serge who really held it down.

Gary Trent Jr.'s the true trend-setter now.

Even if you absolutely detest basketball, you gotta tune in for pregame catwalks from Il Fashionista himself. This was last year's line:
Get your notepads ready. Who knows what's next.