HUNTER: How many teens shot dead until we hit breaking point? – Toronto Sun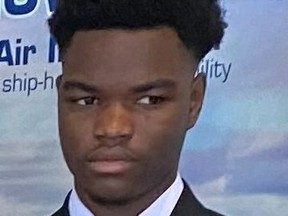 "I don't care if I burn, my mother could watch me." — Salvador "Capeman" Agron.
Sal Agron uttered those words in 1959 but his "I don't care" attitude has sadly survived the tumultuous decades since that day in New York City.
Your Midday Sun
From our newsroom to your inbox at noon, the latest headlines, stories, opinion and photos from the Toronto Sun.
By clicking on the sign up button you consent to receive the above newsletter from Postmedia Network Inc. You may unsubscribe any time by clicking on the unsubscribe link at the bottom of our emails. Postmedia Network Inc. | 365 Bloor Street East, Toronto, Ontario, M4W 3L4 | 416-383-2300
Agron was a member of a Puerto Rican street gang called the Vampires. He and his crew tangled with a crew of Irish thugs called the Norsemen. On a scorching August night in New York, Agron stabbed two rival teen gang members to death.
For his troubles, he was sentenced to die in the electric chair, and yeah, mama could watch. He was 16 years old. Agron's death sentence was eventually commuted and he was released in 1979. He later became a youth counsellor.

In the New York of 1959, there was widespread panic over violent street gangs, part of it tinged with racism. Little was done, one gang became the next, and the phenomenon turned generational.
A kid in Toronto's actions on Monday channelled Agron's smirking "I don't care" posture.
Recommended video
We apologize, but this video has failed to load.
On a stunning autumn day with temperatures tantalizingly spring-like, a boy in this city died.
Cops say around 3:20 p.m. on Monday, Jefferson Peter Shardeley Guerrier was cut down by bullets in front of Woburn Collegiate Institute on Ellesmere Rd. Look at the time and the location and tell me we don't have a problem.

The mortally-injured teen was taken to a hospital, where he was pronounced dead. A 15-year-old boy also showed up at a hospital with gunshot wounds and is in stable condition.
Jefferson Guerrier will now be 18 years old forever. The things we fill our lives with from the time we're a teen until we're old and gray will not be part of that boy's future.
It all simply stopped Monday afternoon.
Not surprisingly, cops describe the triggerman as a "boy in his teens" wearing dark clothing. Detectives added that the kid was skinny.
Guerrier was a former student of Lester B. Pearson Collegiate Institute. Why he was at Woburn at the end of class for the day is not known. In some ways, it doesn't matter.
He is just as dead.
His former principal said in a statement that he attended Pearson from 2017-22, he was involved with the band and skateboarding club.
The principal added: "His playful and jovial nature endeared him to staff and students alike."
Schools are supposed to be safe, not killing zones. Prior to the shooting, a student was filming some sort of interaction, giggling, joking.
Then come the gunshots. It is no longer a joke, she is screaming.
There will no doubt be platitudes aplenty in the coming days of the tragic death of Guerrier and his damnably short existence on this planet. Cops will be blamed, teachers, schools, parents, immigration and a multitude of other red herrings.
Illegal guns should be public enemy number one. They won't be.
TDSB Director of Education Colleen Russell-Rawlins told reporters that a "multi-pronged" approach is required to put an end to violent crimes in school — and elsewhere.
Of course, she's right, but in this country it's simply easier to virtue signal your concern with social media hashtags, make empty speeches — and wait for the next murder. Then repeat.
In Sal Agron's New York City of 1959, there were 390 homicides. The Cape Man murders were followed by agonizing thumbsuckers in the New York Times about what to do about wild youth.
Politicians thundered. Preachers wept. But they did nothing and nothing changed.
Except for one thing: By 1992, New York City was enduring 2,200 murders a year.
The result of a whole lot of "I don't care".
bhunter@postmedia.com
@HunterTOSun