LILLEY: Education, not indoctrination, should be the priority in classrooms – Toronto Sun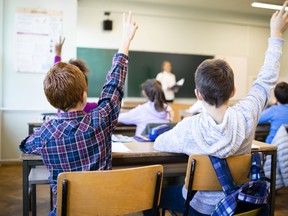 The focus right now in Ontario is whether kids should be in class this week or be shut down by a strike. There's plenty to say on that, but what we should be focused on is what kids are learning in class.
Once again, we have full evidence of a highly politicized agenda being pushed on school children including critical race theory and a sexual agenda that many parents would find coming on a bit too hot and heavy.
The student census for the Toronto District School Board reads like it came from another world. Beyond asking children in Grade 4 if they are a boy, girl, non-binary or transgenders and asking children in Grade 7 if they are learning in school of ways to hide their breasts or penises, the census specifically states that it will be analyzed through specific and highly political theories: Anti-colonial and decolonial theory;
anti-oppression theory; anti-racist and critical race theory; community-based and participatory action research methods; and QuantCrit or quantitative critical race theory.
We've been told over and over again that critical race theory isn't entering the school system and then time and again it emerges. Thankfully, so that there is no doubt what we are talking about, the TDSB census document gives us a definition to work with for critical race theory.
"A movement that posits that race is socially constructed and racism is an ingrained, saturated, and normalized aspect of society to justify and uphold white supremacy and racial oppression in everyday experiences as well as legal systems and other structures" the census document states.
Recommended video
We apologize, but this video has failed to load.
It's through these lenses that the "researchers" who collect this data will evaluate the answers on the home life of students, questions about their religious life, their gender, their sexuality and of course, such topics as "binding, packing, tucking or padding options."
After pushback from parents, the TDSB is delaying and reworking this census, but the problem is, it's not just the TDSB where radical politics surrounding race and gender are finding their way into the classroom. One reader who works in education wrote to tell me of their board's policy requiring teachers to call parents if children are persistently late, but forbidding them to discuss with parents if the child wants to change their gender.
That's spelled out clearly in the policies of several school boards, like this section from the Waterloo District School Board.
"A school shall not disclose a student's gender status to the student's parent(s)/guardian(s) without the student's explicit prior consent," the board's policy reads.
The board claims it is for student safety, the board obviously feels that parents are dangerous and violent louts who can't handle the truth. This is an attempt by school boards to usurp the role of parents, which is not their job.
Every week it seems, I'm sent something showing the latest radical agenda item being pushed in our education system, an agenda item that is almost always more about indoctrination rather than education. When contract talks are finished, it's time for Lecce, backed up by Premier Doug Ford, to lay down the law in the education system and change this.
If that means firing activists who push this and replacing them with level-headed individuals committed to education, so be it.
If they can't do that, they should consider letting parents opt out through a voucher system. We spent more than $32 billion on education last year, according to the province's public accounts. That works out to $16,000 per student, enough to find a good, quality private school in most parts of the province.
What can't stay in place is the status quo of indoctrination over education.
Your Midday Sun
From our newsroom to your inbox at noon, the latest headlines, stories, opinion and photos from the Toronto Sun.
By clicking on the sign up button you consent to receive the above newsletter from Postmedia Network Inc. You may unsubscribe any time by clicking on the unsubscribe link at the bottom of our emails. Postmedia Network Inc. | 365 Bloor Street East, Toronto, Ontario, M4W 3L4 | 416-383-2300