LILLEY: Trudeau makes a mockery of Question Period and the Charter – Toronto Sun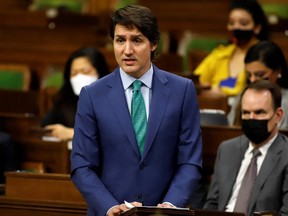 Looks like Conservative Leader Pierre Poilievre inadvertently got an answer to who stayed in the $6,000 per night hotel room in London. He also got a lot of questions thrown his way, asking why he wasn't standing up for fundamental rights and freedoms.
Gong show is probably the best way to describe Wednesday's Question Period on Parliament Hill. Many of you might think that every day MPs ask questions results in a gong show, but this was more so than most.
Your Midday Sun
From our newsroom to your inbox at noon, the latest headlines, stories, opinion and photos from the Toronto Sun.
By clicking on the sign up button you consent to receive the above newsletter from Postmedia Network Inc. You may unsubscribe any time by clicking on the unsubscribe link at the bottom of our emails. Postmedia Network Inc. | 365 Bloor Street East, Toronto, Ontario, M4W 3L4 | 416-383-2300
"Who stayed in that room?" Poilievre asked Prime Minister Justin Trudeau.
"Mr. Speaker, while the Conservatives continue to focus on me, we're going to stay focused on supporting Canadians," Trudeau said before asking Poilievre to condemn the actions of Ontario Premier Doug Ford.
More on the attacks on Ford in a moment, let's get back to the room. Did Trudeau hint that it was him? That's how Poilievre took it, the first sign that the government is willing to admit to their fiscal blunder since The Toronto Sun broke the story more than a week ago.
"Nice try. Very clever," Poilievre said to howls of laughter on the Conservative benches. Right here, a moment ago I asked who stayed in the $6,000-a- night hotel room, and he said that I was focusing on him. I guess that we got our answer then."
Poilievre went on to say that Trudeau would rather talk about anything else than how much money, taxpayer money, Trudeau spent on himself while Canadians are suffering. He then asked Trudeau to confirm it was him in the room, but Trudeau was having none of that, he had an Ontario government to attack.
Recommended video
We apologize, but this video has failed to load.
"The Leader of the Opposition made a full campaign out of and now he's nowhere to be seen on standing up for Canadians fundamental rights and freedoms. Will he condemn the Notwithstanding Clause preemptive use?" Trudeau said.
At this point, it's the fourth time in two days that Trudeau has answered a question from Poilievre by bringing up Ontario's use of the Notwithstanding Clause to prevent a strike and shutdown of schools this week.
On Tuesday, Trudeau answered questions on inflation and the ArriveCan app by talking about Ontario's use of the Notwithstanding Clause. On Wednesday, Trudeau answered two questions on the expensive hotel, one on the Bank of Canada and one on inflation by raising Doug Ford's use of the Notwithstanding Clause.
In fact, Trudeau boasted that he had asked Poilievre to show that he stands up for fundamental rights and freedoms by condemning Ford's use of the Notwithstanding Clause six times — and the Conservative leader did not.
Funny thing, try as I might, I couldn't find any record in Hansard, the official record of Parliamentary proceedings, where Trudeau asked anyone to condemn Quebec's use of the Notwithstanding Clause. They recently used it on Bill 96 which permanently strips away the rights of English speaking Quebecers to obtain government services in English or to conduct their business as they see fit.
Trudeau hasn't condemned that bill in the House of Commons either, but in two days, he's denounced Ontario at least six times that I can count. It's almost like this is more about politics than actually standing up for fundamental rights and freedoms.
While Trudeau's base like to see the prime minister beat up on Ford, Trudeau would be in trouble if he tried the same thing with Quebec Premier Francois Legault.
There's also the pesky issue of Trudeau making a big deal out of Ford's move while a public inquiry takes place in Ottawa into Trudeau's suspension of Charter rights through the Emergencies Act.
I wrote yesterday that the desire of Canadians to defend Charter rights too often depends on the situation and the politics involved.
Trudeau is helping to prove that point.