NATIONAL TEAM NOTES: Canada keep calm as 2022 FIFA World Cup approaches – Toronto Sun
Canada has three exhibition games left to work out the kinks before opening the tournament at the Ahmad bin Ali Stadium in Al Rayyan, Qatar on Nov. 23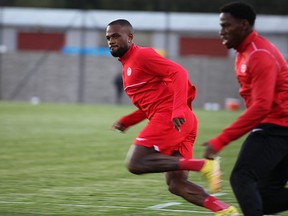 BRATISLAVA, Slovakia — Time is flying by for the Canadian men's national soccer team and it won't be long before they are lined up against Belgium for its first game at the FIFA World Cup in 36 years.
Canada has three exhibition games left to work out the kinks before opening the tournament at the Ahmad bin Ali Stadium in Al Rayyan, Qatar on Nov. 23.
Your Midday Sun
From our newsroom to your inbox at noon, the latest headlines, stories, opinion and photos from the Toronto Sun.
By clicking on the sign up button you consent to receive the above newsletter from Postmedia Network Inc. You may unsubscribe any time by clicking on the unsubscribe link at the bottom of our emails. Postmedia Network Inc. | 365 Bloor Street East, Toronto, Ontario, M4W 3L4 | 416-383-2300
Canada will play Qatar in Vienna, Austria, on Friday (1 p.m. ET, OneSoccer) and then face Uruguay here on Tuesday.
We apologize, but this video has failed to load.
Once the 26-man World Cup roster is selected, Canada will play an exhibition game against Japan in Dubai, UAE, on Nov. 17, before opening the 32-team tournament in Qatar.
"We made a collective decision in June, from our analysis, and we knew what we needed to keep doing heading into Qatar," said Canada head coach John Herdman on Thursday. "We know there are 100 things you can do to prepare, and you can drive yourself crazy with that. But the reality is, there are five things we're going to focus on and we're going to bring that focus to every single (national team) camp and we'll build on it.
"We learn the gaps we have from different opponents. You don't know where you're at until you play Uruguay, so there are things we will work on prior to that and there are things that we'll work on after."
Uruguay will provide a tough test for Canada heading into Qatar and may give them some indication what to expect against Belgium.
Uruguay is a star-studded team led by striker Luis Suarez and finished third in South American qualifying behind Brazil and Argentina. They won the inaugural FIFA World Cup in 1930 and then the first tournament back after the Second World War in 1950, shocking Brazil in the final.
"I believe in the guys on our team and I believe we have the ability to match their level and play even better," Canada striker Cyle Larin said. "I believe we just have to focus on what we have; we have top quality, and as a group, we're really close-knit and I think that really translates on the field."
NO SNOW FOR ADEKUGBE
The weather was pleasant for a change in Bratislava on Thursday, after a couple of cold training sessions to start the week-long camp.
Yet, not matter how blustery it does get, the weather won't compare to what Canada faced in Edmonton last November during a World Cup qualifying game against Mexico.
One of the most enduring memories of the game was defender Sam Adekugbe's dive into a snowbank along the sideline after Larin scored to put Canada up 2-0 in the contest. Canada went on to win the game 2-1.
"I was definitely surprised (at the reaction); it was just a moment of happiness on our second goal against Mexico in front of my home province and family," Adekugbe, a Calgary product, said Thursday. "It was just definitely just a moment of energy, I guess."
LOOKING FOR MINUTES
Larin scored more goals than anyone else in the region during Concacaf World Cup qualifying (13), which helped facilitate a move to Club Brugge in Belgium after playing in Turkey the previous four seasons.
Larin scored his first goal for Club Brugge in July, but has since seen his minutes reduced by head coach Carl Hoefkens.
"I think it's a concern for us, but when they come here (with national team) we create a different culture here," Herdman said. "Guys come here and step in regardless of what their club scenario is. They step in, feel safe and feel cared for and typically can perform at their best, so I'm not too worried.
"I'm probably more worried about players that are completely out of football environments (by the World Cup) — the MLS guys that aren't in the playoffs. That's a bit of a challenge, but speaking to all of them individually in the last two days, the guys are putting in that extra work on the field."
Larin believes his playing time at Club Brugge will eventually increase, perhaps after Canada face Belgium in its opening Group F games.
"It's been good, I've played in Belgium before and so I've seen what it's like there," Larin said. "I'm starting to get settled in, I'm just going to keep working. It was good to get my first goal and I want to build from that."
Larin has yet to take any ribbing about playing Belgium from his Belgian teammates at Club Brugge, but is looking forward to facing one of the best national teams in the world.
Belgium finished third at the 2018 FIFA World Cup in Russia, defeating Brazil in the quarterfinals.
"We'll see the result after we play them," Larin said. "But I don't think we're scared of anything; we've shown that in the past and we're looking forward to showing it again."
NOTEBOOK
Canada's coaching staff will get an opportunity to do some in-person scouting while in Vienna as Group F opponent Croatia is also in town, playing a UEFA Nations League game against Austria on Sunday. Croatia made it to the final of the 2018 World Cup tournament, losing to France.