New Canuck Jason Dickinson's first concert was the Spice Girls – Vancouver Is Awesome
Also, Thatcher Demko busted a move with a TikTok dance at NHL Media Day.
Training camp is just one week away for teams around the NHL, including the Vancouver Canucks. That means it's time for a storied tradition: NHL Media Day.
Before the season starts, the NHL gathers players from around the league together to shoot promos for their various television partners, record fun interviews and behind-the-scenes footage to use throughout the year, and take dramatic photographs in their finest designer suits.
Thatcher Demko, who enters the season as the Canucks' undisputed number one goaltender for the first time, was one of the Canucks' representatives at NHL Media Day. The other was new Canuck Jason Dickinson, who came over in a trade with the Dallas Stars and is expected to be the team's third-line centre. You can expect to see their faces a lot throughout the season in the NHL's promotional material.
On Wednesday, the Canucks gave a behind-the-scenes look at what Demko and Dickinson went through. It provides a little insight into both of them, such as Demko's love of In-N-Out and desire to bring back MTV's Punk'd with Ashton Kutcher and Dickinson's artistic skill and massive quads.
But before we break down Demko's TikTok dance moves, we have to talk about the most important part of the video: Dickinson's first concert.
"Spice Girls? I think it was Spice Girls," says Dickinson, about two minutes into the video.
Jason Dickinson. Spice Girls. Yes.
That is fantastic. Perhaps it's just the nostalgia speaking, but the Spice Girls are delightful and their brash, unapologetically bubblegum pop music still worms its way into my brain on a regular basis. Does it destroy my punk bona fides to suggest that the Spice Girls would be a phenomenal first concert experience? Perhaps.
Dickinson's declaration does, however, raise a question: when did he see the Spice Girls?
I only ask this because Dickinson is just 26 years old. He was born in 1995. By the time the Spice Girls released their third and final studio album and went on an indefinite hiatus, Dickinson was six.
So, there are only a couple of options. Dickinson was born and raised in Ontario, specifically Georgetown. Assuming he didn't travel out of the country to go to his first concert, he likely saw the Spice Girls on one of their world tours that came to Ontario.
The Spice Girls' first concert in Canada came on the Spiceworld Tour in 1998. They first played Montreal on July 10, then Toronto on July 11 before popping back down to the U.S. and returning to Canada in Vancouver on August 11.
Dickinson could have seen the Spice Girls in Toronto on July 11 but he would have just turned three years old a week earlier. Do three-year-olds go to Spice Girls concerts? Maybe. Would they then remember that experience as their first concert ever? It's possible. But it just doesn't seem likely.
It took a decade for the Spice Girls to return to Canada when they went on a reunion tour called The Return of the Spice Girls. The tour actually began and ended in Canada, kicking off in Vancouver on December 2, 2007 then concluding in Toronto on February 26, 2008.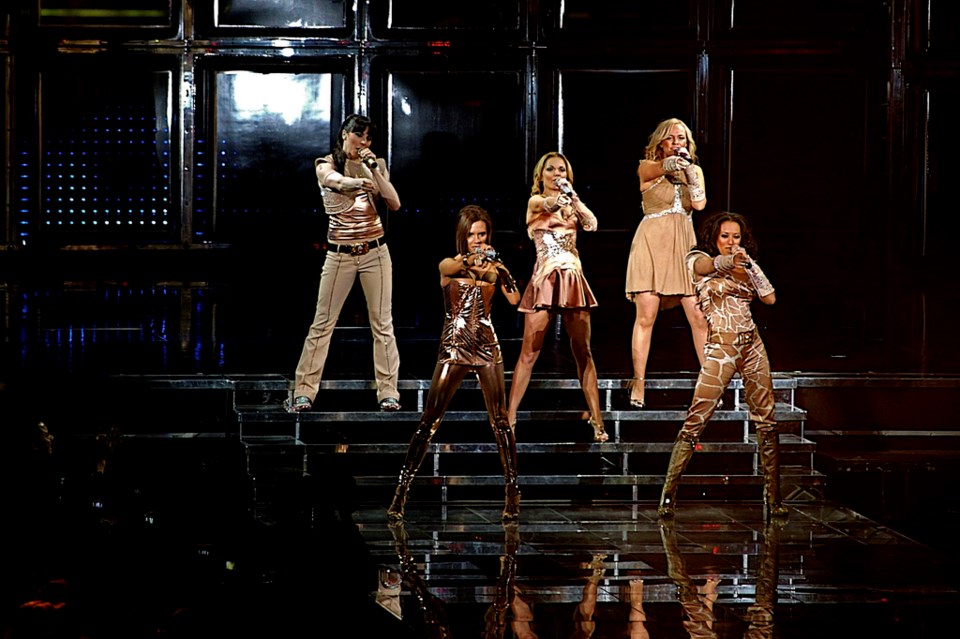 The tour had four dates in Toronto — they first played back-to-back shows on February 3 and 4 then returned for two more shows on February 25 and 26. Most likely, Dickinson saw the Spice Girls on one of those dates. He would have been 12.
12 years old seems like a reasonable age to go to your first concert. I think we've solved the mystery. The extremely important, crucial, vital mystery. I think I speak for all of us when I say that I will sleep better at night having laid this to rest.
"I've got big quads."
The rest of the video is delightful, particularly Demko snagging a drone out of midair with his glove, pretending to eat a burger with a miniature Stanley Cup under his arm, and busting a move for TikTok. 
"Out on the ice, doing some drone work. They flew the thing right at my head there and had me catch it," said Demko. "Caught it right in the glove. That was a new one I'd never done before, it was pretty cool."
Dickinson talking about the classic struggle of the hockey player — finding pants that fit — is also an instant classic.
"I've got big quads, I guess, that's where my jeans always struggle," said Dickinson. "Pretty much anything that gets over my quads is way too big on the waist and anything that buttons up at the waist is skinny jeans on me, I can't move in them."
On a more serious note, Dickinson expressed his interest in getting immediately involved in the Canucks' charity work as he comes to Vancouver for the first time.
"That's where I find there's ways to help and do things behind the scenes without having to be in the spotlight," said Dickinson.