'No-go area': Negative travel reviews flood in from tourists visiting Chinatown, Gastown – Vancouver Sun
Business associations near the Downtown Eastside area and tourism promoters are meeting this week to discuss what role they can play.
Publishing date:
Aug 08, 2022  •  1 hour ago  •  4 minute read  •  8 Comments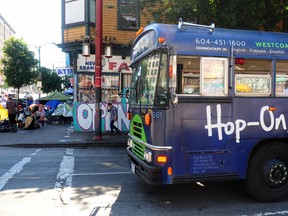 Tourism websites suggest you could easily spend half a day in Vancouver's Chinatown experiencing the historic neighbourhood, exotic restaurants and specialty stores.
But in recent days, comments left by visitors on Tripadvisor have not been as flattering.
"Does not feel safe," "No-go area," and "Avoid, avoid, avoid-shocking-slums-sad," were some of the descriptions left by tourists from India, the Netherlands and the U.K. Others mentioned random violence, widespread graffiti and dire conditions for the unhoused.
Business associations near the Downtown Eastside and tourism promoters are meeting this week to discuss what role they can play to improve these poor first impressions.
"We have heard about the conversations with tourists and the concerns with some of the things that folks are seeing on the streets. There is this sense of a dire situation here in the Downtown Eastside and it certainly has us concerned if it's going to impact tourism," said Walley Wargolet, executive-director of the Gastown Business Improvement Society.
It comes as the City of Vancouver has been working to take down makeshift shelters on East Hastings Street between Main and Carrall Streets due to fire safety concerns.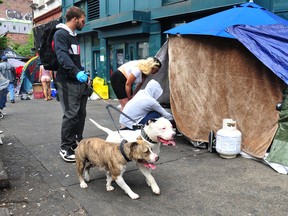 On Sunday, the mayor called on the provincial government to reform the justice system to deal with prolific offenders who endanger public safety and respond to the need for mental health services after a suspect set fire to an apartment before attacking its residents with a machete.
"We continually stress that we know there's a humanitarian crisis we are dealing with — with this encampment and the encampments in our city — and just the lack of places for folks to go. But then, we also have to be looking at the broader community and the impacts these will have as well," said Wargolet.
He said that with the pandemic still underway, many businesses are still struggling to recover even though there is more traffic on the street in recent weeks.
"We need years of that to come, and if there's a bruise to the branding of what Vancouver is, and if it has a negative impact and people then do not want to visit our city, that is a huge concern we have and it's something we need to address."
Destination Vancouver CEO Royce Chwin said his organization's responsibility is to make sure Vancouver can come out of the pandemic with a vibrant tourism economy, one that is worth $5 billion annually and employs over 100,000 people. He said there have been negative tourist reviews about these downtown neighbourhoods for more than a decade.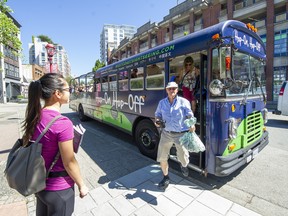 Abelardo Mayoral-Fierros has been booking international bands into venues such as The Rickshaw Theatre on East Hastings Street for years. His return visitors have long said some conditions in the Downtown Eastside rank alongside streets in rough areas of San Francisco or Detroit.
But recently, it has seemed worse, he said. In April, one band's tour bus was marked with graffiti and members found people who had overdosed next to and underneath it. He now hires extra security to watch their parked buses.
"I still do it because the venue inside is great. During the day, outside, when we are unloading, you can hear screaming. It's more aggressive than it used to be," said Mayoral-Fierros.
Lorraine Lowe, executive-director of the Dr. Sun Yat-Sen Classical Chinese Garden, has said employees have been greeted with racist anti-Asian tirades when arriving for work, as well as waves of vandalism, and garbage and feces regularly left at their gate.
"We are very thoughtful when directing visitors to return back to the waterfront area, giving them a clear path as to where (not to go), and to take an Uber or taxi or walk to Abbott Street and travel north."
She has been in touch with counterparts in Portland and Seattle and said they are reporting a similar situation with the concentration of poverty and drug treatment services.
Lowe said it is complex, but the result is some of the poorest and most marginalized residents who live in the SROs on East Hastings are feeling unsafe in their meagre spaces, being shouted at and assaulted.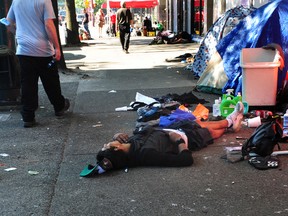 Jordan Eng of the Chinatown Business Improvement Association said there are small business owners trying to feed their families and take care of their homes and employees.
"We grew up in this neighbourhood. This was always a low-income area. The SROs were where the loggers and miners came in and they drank in pubs and kind of got drunk and disorderly, and they stayed to dry out and go back to work again," said Eng.
"This is a totally different situation. You look at people that are just passed out."
---
More news, fewer ads: Our in-depth journalism is possible thanks to the support of our subscribers. For just $3.50 per week, you can get unlimited, ad-lite access to The Vancouver Sun, The Province, National Post and 13 other Canadian news sites. Support us by subscribing today: The Vancouver Sun | The Province.

Vancouver Sun Headline News
Sign up to receive daily headline news from the Vancouver Sun, a division of Postmedia Network Inc.
By clicking on the sign up button you consent to receive the above newsletter from Postmedia Network Inc. You may unsubscribe any time by clicking on the unsubscribe link at the bottom of our emails. Postmedia Network Inc. | 365 Bloor Street East, Toronto, Ontario, M4W 3L4 | 416-383-2300