SIMMONS SAYS: Return of NHL only solution for Olympic hockey – Toronto Sun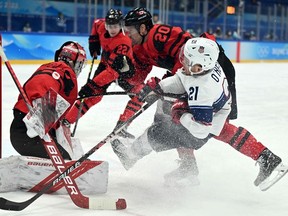 The perfect solution to save Olympic hockey is completely imperfect.
Advertisement
This advertisement has not loaded yet, but your article continues below.
Every four years, when the NHL can't or won't allow its players to participate in the world's largest winter sporting event, substituting the world junior tournament would be a way to generate the kind of excitement and energy that was lacking from Olympic men's hockey in China and Korea the past two Winter Games.
It makes all kinds of sense — but then it makes no sense at all.
And that is the problem here. It always comes back to money. There are stakeholders and rightsholders involved with the world junior event that understand the kind of money the tournament can generate. It's not just Hockey Canada or whatever national body happens to be in whatever country you're talking about — it's the local organizers, it's the amount of money that can be generated in ticket sales, it's the television value of the event and that means it won't, in fact, be for sale now or at any time in the future.
Advertisement
This advertisement has not loaded yet, but your article continues below.
Which means what for Olympic hockey?
It means first choice is to bring the NHL back and provide a world stage for the Connor McDavids and Auston Matthews of the hockey world. Much as NHL owners may dislike that, their players desperately want to be part of the Games — the next Olympics coming in Italy in 2026.
By then, Sidney Crosby and Carey Price will be 39 years old, Alexander Ovechkin will be 40. Probably too old to participate. But what hockey can't do, and what the Olympics can't continue to do, is have the best in the world skiing and skating and racing and jumping while another tier of men's hockey injures its own game, leaving little to remember behind.
Since Dec. 1, the uncanny Matthews has scored 26 goals. That's twice as many as Ovechkin or McDavid. That's 11 more than Leon Draisaitl. The players closest to Matthews over the past three months in goal scoring: Gabriel Landeskog with 22 and David Pastrnak with 20. The biggest surprises in that time: Adrian Kempe of the Kings with 17 goals, the same number Jason Robertson has scored in Dallas … In the past three months, R.S. Matthews (R.S. for regular season) and linemates Mitch Marner and Michael Bunting have scored 48 goals. At the same time, John Tavares, William Nylander and Alex Kerfoot have combined for 21 … The Maple Leafs are paying the numbing number of $40 million for Matthews, Marner, Tavares, and Nylander. Combined they've scored a credible 207 points this season. The NHL-leading Colorado Avalanche pay $28 million for their top four forwards: captain Landeskog, Mikko Rantanen, Nathan MacKinnon, and Nazem Kadri. They've combined for 234 points and MacKinnon has missed 13 games … There are about 30 games remaining in the NHL season and the number of Hart Trophy candidates seems to be growing: They include Matthews, McDavid, and Draisaitl in Edmonton, goaltender Igor Shesterkin, scoring leader Jonathan Huberdeau, two defencemen, Cale Makar and Victor Hedman, and maybe another goalie, Andrei Vasilevskiy. That's eight players for five spots on a ballot. And all of them warranted … It's 20 days until the NHL trade deadline and GM Kyle Dubas likes to get his work done early. He has the opportunity to splurge on a defenceman now that Jake Muzzin is on long-term injury, and the Leafs were thin on the blueline even with Muzzin playing. They could use a depth forward, not necessarily a top six, but they absolutely require a No. 3 defenceman, which they don't have on their playing roster right now. And they won't beat Tampa Bay or Florida in a playoff series without one (they might not beat Tampa Bay or Florida with one, but that's another story.)
Advertisement
This advertisement has not loaded yet, but your article continues below.
The messy season for the Chicago Blackhawks just keeps getting messier. Word from the inside is that there's a split in the front office about who should be the next general manager of the club. Danny Wirtz, son of the explosive owner Rocky Wirtz, wants interim GM Kyle Davidson to get the job. President of business operations, Jaime Faulkner, wants to go off the grid and bring in baseball executive Jeff Greenberg, who has never worked in hockey. And nobody seems to be considering my obvious choice for a very difficult position: Ed Olczyk … Ilya Mikheyev scored six goals in his first eight games with the Leafs this season, prompting his agent to tweet 'Show Me the Money.' Since then, two goals in the past 14 games. The truth of his scoring is probably somewhere between the hot start and the cold play of late … For $28 US, I can buy a ticket to watch the great Florida Panthers play in Sunrise and that comes with free parking. In other words, I can get a ticket to watch one of the best teams in hockey for just about what it costs to park near the Scotiabank Arena in Toronto on game night … Bob Murray and Dave Nonis are out of work in Anaheim, Murray under murky circumstances, having put together one of the best young rosters in hockey. They may not fit the popular criterion to run teams anymore, but they sure could help a lot of NHL clubs looking to get better on the ice and in the front office … This is hard to believe: Claude Giroux is second all-time in scoring for the Philadelphia Flyers. Only Bobby Clarke is ahead of him, but Giroux has passed the Hall of Famer Bill Barber and Brian Propp … Imagine growing up in the Granatos home, where everything must have been hockey? How much fun would that have been? Older brother Tony scored 248 NHL goals and went on to coach in the NHL and now at the University of Wisconsin; younger sister Cammi went on to the Hockey Hall of Fame and is now in the front office of the Vancouver Canucks; middle brother Don used to coach Auston Matthews and others with the U.S. development program and now is the head coach of the ever-improving Buffalo Sabres … It's odd how excited NHL players get about playing outdoor games when you consider that most of them grew up playing all their hockey indoors.
Advertisement
This advertisement has not loaded yet, but your article continues below.
Aaron Rodgers can't stand it when we talk about him and seemingly he can't stand it when we don't talk about him. And sometimes I get the impression he likes nothing better than to say something rather innocuous and just sit back and watch all of us attempt to decipher what he is saying and what he really means … Excuse me while I brag about family for a moment: The world is rather consumed by Wordle these days, although I'm not part of that world. But there is now an NBA version of the game, named Poeltl, in honour of the former Raptor Jakob Poeltl. It was invented by my sister's kid, Gabe. Apparently, it's catching on large with NBA fans. Tweeted NBA podcaster J.E. Skeets: "Move over Wordle. We only play Poeltl in this house." … Cleveland's Evan Mobley seems to be the popular choice for rookie of the year in the NBA pushing the Raptors' Scottie Barnes somewhat to the side. Their stats, though, seem almost identical. Same scoring. Same rebounds. Same minutes played. Barnes with more assists, Mobley with a higher shooting percentage. And still 20-some games to play … Toronto's R.J. Barrett is starting to light it up with the low-scoring New York Knicks. He had a career-high 46 points Friday night against Miami and has scored 36-35-32 twice and 31 in recent weeks. And to think, he's only 21 and his college teammate, Zion Williamson, hasn't played a game this season … The Raptors play Brooklyn back to back on Monday and Tuesday, and that classy guy, Goran Dragic, and others will have some explaining to do … The perfect job for the suspended horseman Bob Baffert: training Russian figure skaters … Didn't understand when Seattle hired Dave Hakstol to coach the Kraken to begin this season. Still don't understand the decision … Please world. No war. Please. Anywhere.
Advertisement
This advertisement has not loaded yet, but your article continues below.
Among those with retired numbers from the New York Yankees: Babe Ruth, Mickey Mantle, Joe DiMaggio, Yogi Berra, Lou Gehrig. And now the latest: Paul O'Neill. One of these things is not like the other … Another odd retired Yankee number: Bernie Williams … Do you ever get the impression that the last thing baseball players and baseball owners care about when they wake up in the morning is you? … Scheduled but not played on Saturday: Blue Jays vs. the Minnesota Twins, the spring training opener that wasn't … Post-lockout, the Blue Jays still need to find someone to replace the irreplaceable Marcus Semien and a starting pitcher to do what Steven Matz managed last season … Grey Cups in Regina can be quaint and eventful, but sometimes too quaint. A group of annual Grey Cup goers booked a hotel early for the 2022 Grey Cup. They later learned the hotel was going to be under construction and would not be open Grey Cup Week. They tried to find other accommodations but in a smallish centre found all the hotels completely booked. Now they're upset and scrambling and trying to make their regular vacation possible … Who are your favourite Washington Commanders? I'm thinking Joe Theismann, Dexter Manley and John Riggins, in no particular order. And Dan Kepley remains my favourite Edmonton Elk of all time. Him and Tom Wilkinson … You can't turn on an NHL broadcast these days without seeing an ad for sports gambling. So gambling is paying for the NHL to play, but the NHL still won't advocate the simple announcement of daily starting goalies in their league … Happy birthday to Mike Sullivan (54), Dallas Eakins (55), John Davidson (69), Kelly Gruber (60), Matt Stairs (54), Joey Mullen (65), Jacob Trouba (28), Marshall Faulk (49), Tony Gonzalez (46), James Worthy (61) and Ricky (The Dragon) Steamboat (69) … And, hey, whatever became of Josh Towers?
Advertisement
This advertisement has not loaded yet, but your article continues below.
By the end of the week, Alexander Ovechkin could well have passed Jaromir Jagr for third place in all-time goal scoring in the National Hockey League as his remarkable career carries on.
Heading into Saturday's play, Ovechkin had scored 762 goals, four fewer than Jagr, and clearly on a path to take on the records of breathtaking legends such as Gordie Howe and Wayne Gretzky.
With 894 goals, Gretzky is the all-time leading scorer. The late Howe scored 801 goals in the NHL. That would put Ovechkin one reasonable season away from catching and passing Howe.
But further explanation is needed here: Howe scored 801 times in the NHL, almost all of that with the Detroit Red Wings. He also scored 174 goals in the World Hockey Association. Those goals seem to have been forgotten or disregarded over time. His total number of major league goals, adding together NHL and WHA numbers, comes to 975. No one, including Ovechkin, will ever catch that.
Advertisement
This advertisement has not loaded yet, but your article continues below.
Gretzky's career total is 940 goals, 894 in the NHL and 46 from his one WHA season. That too is an uncatchable number.
That one season in the WHA disqualified Gretzky from qualifying for the rookie of the year award in Edmonton.
The NHL counted the season then as mattering: They just don't count the goals now or ever.
What Ovechkin is doing, even as he is suddenly slowing down this season, is more than remarkable. He will pass Howe in NHL scoring. He might even catch Gretzky.
But he'll never catch the Howe totals of NHL and WHA goals or the Gretzky totals. They're not officially records for most goals scored — but they should be.
Dennis Polonich brought his wife and two daughters along for help the first time he took Zdeno Chara clothes shopping in Prince George, B.C.
Advertisement
This advertisement has not loaded yet, but your article continues below.
"We were trying to get him a winter jacket and a shirt and tie because that's what our players wore in those days," said Polonich, the former NHL player who was then GM in Prince George. "We went to two or three stores. We finally found something for him. It was a quadruple X (XXXX) in size and the sleeves were still four or five inches too short.
"But that was the best we could do. He was a little like a newborn giraffe in those days, all legs and arms going everywhere in all directions and slowly he found his coordination. It was the same with some equipment, too. Regular elbow pads didn't fit him. Our trainers took part of a shin pad and cut it into elbow pads for him when he was here."
Chara played just one season for Polonich but it speaks for both of them that the relationship has lasted for a quarter of a century. On the night Chara tied the record for most games played by an NHL defenceman, Polonich texted him during the game, offering congratulations. He didn't expect to hear back from the future Hall of Famer. He figured he'd be too busy.
Advertisement
This advertisement has not loaded yet, but your article continues below.
"But at 11 o'clock, not long after the game, my phone dinged. It was Chara texting, saying thanks. That's the kind of person he is. He never stopped appreciating our work together."
One of Polonich's daughters went to school in Connecticut on a squash scholarship. She decided one day she wanted to take her teammates to a Boston Bruins game. But it wasn't just another game for the women. The group wound up in Chara's private box. The tickets were all paid for. And after the game, Chara signed autographs and posed for pictures.
"Don't worry Dennis," he texted. "I'll never forget what you did for me. You buy me that jacket."
Chara has played 1,652 games on defence in the NHL, the most in history: He played just 49 games for the Prince George Cougars in 1997.
Your Midday Sun
From our newsroom to your inbox at noon, the latest headlines, stories, opinion and photos from the Toronto Sun.
By clicking on the sign up button you consent to receive the above newsletter from Postmedia Network Inc. You may unsubscribe any time by clicking on the unsubscribe link at the bottom of our emails. Postmedia Network Inc. | 365 Bloor Street East, Toronto, Ontario, M4W 3L4 | 416-383-2300