SNAPSHOTS: Cam Talbot plays the role of spectator Thursday and will likely start against Flyers – Toronto Sun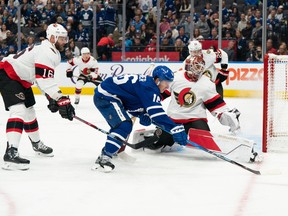 The wait is nearly over for Cam Talbot.
The Ottawa Senators' goaltender dressed as the backup to Anton Forsberg Thursday with the Vegas Golden Knights in town and Talbot is expected to make his first start against the Philadelphia Flyers at the Canadian Tire Centre.
Your Midday Sun
From our newsroom to your inbox at noon, the latest headlines, stories, opinion and photos from the Toronto Sun.
By clicking on the sign up button you consent to receive the above newsletter from Postmedia Network Inc. You may unsubscribe any time by clicking on the unsubscribe link at the bottom of our emails. Postmedia Network Inc. | 365 Bloor Street East, Toronto, Ontario, M4W 3L4 | 416-383-2300
The 35-year-old Talbot, acquired from the Minnesota Wild in the summer, broke his rib during the club's first exhibition game against the Toronto Maple Leafs in camp. He's been taking shots for about the last 10 days and is finally ready to turn the page on the injury.
Talbot is only three games away from 400 in his career.
A native of Caledonia, Ont., Talbot finished last season ranked 10th in wins among NHL goalies with 32 victories in 49 appearances in the Wild net. He finished with a 32-12-4 record with a 2.76 goals-against average and a .911 save percentage.
"It feels good. It's a grind because you never know when these things are going heal themselves and there's nothing you can do to hurry the process along," Talbot said. "You just try to stay ready, stay in shape and it's nice to be back out there with the boys."
The last six weeks haven't been easy but he was on the club's last trip to Florida.
"It's frustrating to say the least," Talbot said. "Especially coming into a new team, not being part of the first few road trips and team bonding, stuff like that. You want to be part of those when you're coming into a new group.
"But I'll do my best to integrate myself here to getting back in the lineup and be ready whenever they give me the first call."
The expectation is that will be with the Flyers in town.
"We'll see how practice goes (Friday) and see how (Forsberg) is," Smith said. "The plan is that we've got to get him playing. He's an all-star goalie and he hasn't played through the first 10 games. We know he can help us and we know he'll give us confidence in there."
The Senators wouldn't mind if Talbot had one more good skate Friday before he suits up for the first time. It will be Talbot's first game since he shutout the Knights on May 26 last season.
"I think it was (10 days ago) they gave me the clearance to get on the ice with (goalie coach) Zac Bierk and take some of his shots," said Talbot. "It's no secret he doesn't shoot like these guys and I tell every day I need some real shots.
"It's nice just to be back out there with the guys and getting some timing back."
NO IMMEDIATE MOVES
Bringing back Talbot doesn't mean Magnus Hellberg will be immediately placed on waivers.
First of all, the Senators need to make sure Talbot is 100% and the club needs to stay healthy in the crease. Hellberg is a good insurance policy for the organization and as long as all the goalies are okay with the current scenario there's no reason to be in a rush to move on from him.
GM Pierre Dorion indicated last week he'd discuss the scenario with Bierk and then make a decision on what to do with Hellberg. Picked up on waivers from the Seattle Kraken, he made 29 stops in a 4-2 win over the Dallas Stars Oct. 24th at home.
Anybody who has had the chance to meet Hellberg understand he's got a good personality and he's not going to rock the boat if he's not playing.
"That will Pierre's decision," Smith said when asked about Hellberg's status? "Certainly, he played a great game for us and with all the injuries that happen to goalies these days, he's going to be around here for the next little bit."
The Senators know if they put Hellberg on waivers he'll likely get snapped by the Kraken or another team in need of help at the NHL level. It makes sense not to be in a rush and the club has the room on the roster to keep Hellberg here.
If the club does decide to move on, Dorion may be able to get a draft pick in return.
THE LAST WORDS
Centre Tim Stutzle wasn't thrilled with the way he performed in losses to the Florida Panthers and Tampa Bay Lightning on the two-game road trip. "The last two games we lost I think I played really, really bad," Stutzle said. "But in the end you're going to have bad games. For me, the most important thing is to get out there and play better every night." The club was outshot 92-41 during the two games in Florida so Stutzle wasn't the only one who didn't perform up to expectations … Dorion was spotted on a flight to Winnipeg Thursday. This was a pre-planned scouting trip. He spent the first month of the season with the Senators and wants to get out to look at some other teams. The club is looking for another defenceman that can help the back end. Those aren't easy to come by … D Artem Zub missed his third straight with an upper body injury. He won't play Saturday against the Flyers but hasn't been ruled out for the visit by the Vancouver Canucks Tuesday … An area the Senators are trying to improve is blocking shots. "If you stop some pucks from getting through to the net you have a better chance of winning," said winger Mathieu Joseph. "It sucks, and it hurt sometimes, but you're doing it for your team."