STINSON: Leylah Fernandez returns to action after two-month injury layoff – Toronto Sun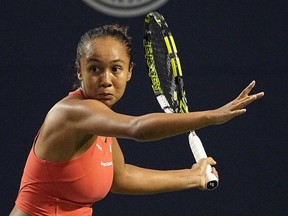 Leylah Fernandez says she has discovered she isn't very patient, which suggests the rain delays upon her return to competitive action probably weren't that much fun.
Fernandez, the 19-year-old from Montreal, has been idled since early June, when she suffered a stress fracture in her right foot at the French Open.
On Monday night, after rain delays pushed back the schedule, Fernandez finally got to smash her first tennis balls since spring at the National Tennis Centre in Toronto, where the National Bank Open is taking place.
There has, in short, been a lot of waiting going on.
Fernandez said in a news conference upon her arrival in Toronto for the tournament formerly called the Rogers Cup that being forced to stay off her feet for an extended period was tougher than expected.
"I learned I'm very impatient," she said with a smile. Last year's shock U.S. Open finalist said she watched TV and read some books during the layoff, but would also try to "wobble my way to the tennis court" before her father and coach, Jorge, would tell her to knock it off. She only received medical clearance to resume hitting balls a few days ago.
Fernandez said she was heartbroken for a few days after learning in the spring that the injury was a significant one, but that she tried to see the positives: She was able to spend more time than usual with her family, getting some quiet time that a professional tennis career usually does not allow. "I tried seeing it as a bit of a silver lining," she said.
First up in Toronto was Australian qualifier Storm Sanders. It is a measure of Fernandez's success that even with the mid-season absence of over two months, she still held the No. 13 seed in Toronto in a stacked field, with 41 of the top 43 in the WTA rankings present.
Before the rain drops fell to add a new level of uncertainty to the day, there were short-term and long-term questions looming over Canada's latest tennis star. The former stuff was simple: How was the foot? Would she be rusty? Would her conditioning be up to the level required for a full match? The latter stuff is a bit more tricky, if only because Fernandez's story has such an obvious recent precedent.
Bianca Andreescu, and before her Eugenie Bouchard, rose to stardom in the space of one season on the main WTA tour, but almost immediately had those meteoric rises complicated by injury.
Andreescu missed most of two seasons after her supernova 2019, an absence that in part coincided with the COVID-19 pandemic and during which she lost her joy in the sport — though she has said the long layoff helped her rediscover her passion for tennis. She's scheduled to take Centre Court here on Tuesday and try to reclaim the title she won in 2019.
Bouchard was briefly one of the biggest stars in tennis after a romp through the Grand Slam season in 2014, but she struggled the following season and then suffered a freak head injury in 2015, slipping on a wet floor at the U.S. Open in New York. While she's still just 28 years old, she has not come close to recapturing the sustained form of her breakout year and is again amid a long injury layoff.
All of which makes the Fernandez case intriguing.
Even during her wild run in New York last year, which included victories over Naomi Osaka, Angeline Kerber, Elina Svitolina and Aryna Sabalenka before a loss to fellow newcomer Emma Raducanu in the final, she had the advantage of being an unfamiliar and unorthodox opponent to veteran WTA players. Some of them were visibly frustrated trying to figure out this undersized, left-handed Canadian. But Fernandez quickly consolidated her arrival this season, winning her first title in Monterrey, Mexico, and making the quarterfinals in Paris, while climbing up into the top 15 of the WTA rankings.
Despite the life-changing million-dollar prize money from the U.S. Open and the rush of sponsor deals that followed, Fernandez was again playing impressive tennis for someone in her late teens, which is probably why she found the injury so devastating.
Momentum, once lost, can be tough to recover.
Andreescu has spoken honestly about worrying so much about wins and losses that she had to step away from tennis — this from someone who even if she never hit another ball has already done something that no other Canadian has done with her Grand Slam singles title.
Fernandez sounds like someone who has so far avoided those dark places.
The last time she played in Toronto, three years ago, she was just 16, and in awe of being in the same place, on the same courts, as legends like Venus and Serena Williams. Now she would be favoured against either of them.
Asked if she had particular expectations of herself after the forced hiatus and the lack of competitive action, Fernandez was blunt: "My expectations are high," she said.
The road back to New York was about to begin. Even if it took a little longer than expected.
Your Midday Sun
From our newsroom to your inbox at noon, the latest headlines, stories, opinion and photos from the Toronto Sun.
By clicking on the sign up button you consent to receive the above newsletter from Postmedia Network Inc. You may unsubscribe any time by clicking on the unsubscribe link at the bottom of our emails. Postmedia Network Inc. | 365 Bloor Street East, Toronto, Ontario, M4W 3L4 | 416-383-2300