Two stinkers in a row for Raptors on this road trip – Toronto Sun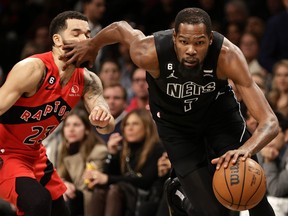 BROOKLYN — Normally, when the Raptors get punched in the mouth as they did in New Orleans a few nights ago, they come out swinging the next time.
But there was no punch in the Raptors here on Friday night, at least not until things were well out of hand for the second consecutive game and second consecutive loss on this road trip.
Corner Kicks with Derek Van Diest
As the Canadian national soccer teams head to their respective FIFA World Cups, Derek Van Diest is on the scene to cover all the action. Expect expert insights and analysis in your inbox daily throughout the tournaments, and weekly on Thursdays for the rest of the season.
By clicking on the sign up button you consent to receive the above newsletter from Postmedia Network Inc. You may unsubscribe any time by clicking on the unsubscribe link at the bottom of our emails. Postmedia Network Inc. | 365 Bloor Street East, Toronto, Ontario, M4W 3L4 | 416-383-2300
Right from the opening tip, it was apparent the home side Brooklyn Nets wanted this one more, turning the Raptors back every time they tried to get to the rim, while knocking down their own shots at will on their way to a 114-105 win, a result which painted the visitors in a better light than their overall performance deserved.
Through a quarter, the Nets were shooting a ridiculous 75% and made six of their first seven threes. The Raptors, meanwhile, were shooting a woeful 24% as they dug themselves a huge hole in that first quarter, outscored 41-17.
That's back-to-back 40-point opening quarters surrendered, a trend that has to end if the Raps are to get back to their winning ways.
"You can find excuses in this league every night," veteran guard Fred VanVleet said post-game. "There are a million of them, or you can show up and play the game the way it is supposed to be played. We did that for 30 or 35 minutes tonight, but you spot a team like that 41, good luck. Your offence had better be clicking if you are going to give up what we gave up."
VanVleet understands that the team is in a funk right now and is going to get out of it only when it gets back to its identity of being more physical than its opponent and, offensively, playing like a team.
"We got punched in the mouth is probably a better way to say it," VanVleet said of the Raptors' lacklustre first quarter. "Waited until we were down 30 points to fight back which is a little too late. Again, that is part of being professional and being ahead of the punch, being more physical and just being more aggressive and on your toes to start the game. We are learning to do that."
Typical of the early portion of the night were a couple of head-shaking plays in the second quarter.
A room-service rebound under their own basket with the Nets already in retreat went awry when both O.G. Anunoby and Gary Trent Jr. went for it. The ball went off Trent and out of bounds.
Minutes later, an even more comedic moment played out as rookie Christian Koloko, on his way up to finish off a lob at the Nets rim, got tripped up by teammate Juancho Hernangomez and never even got airborne.
It was that kind of night for the Raptors.
At their worst the Raptors were down 36. They reduced that deficit to 15 in the third quarter, only to see the Nets re-assert themselves and pull away again. They got it back down to seven in the final minute but it was too late.
Both VanVleet and Pascal Siakam began the fourth quarter with five fouls. Still down more than 20 at that point, head coach Nick Nurse had nothing to save his two stars for and both started the final quarter and played the rest of the game.
The Raptors were outscored at the three-point line 33-18 as their record against the Nets this season dropped to 0-3.
Kyrie Irving led all scorers with 27 points. Siakam paced Toronto with 22 while Anunoby had 21.
The Raptors will try to right the ship Saturday night on short rest as they host the Orlando Magic in an 8 p.m. tip at Scotiabank Arena.
We apologize, but this video has failed to load.
NURSE ON BARNES
Scottie Barnes was coming off perhaps his worst game as a pro in that beatdown at New Orleans.
In 21 minutes, Barnes was a woeful 1-for-7 from the field, pulled down just one rebound and salvaged some pride with five assists.
Things certainly improved individually for Barnes with a change of venue even if the Raptors' collective fortunes didn't. He finished the night against the Nets with 15 points and nine rebounds.
Nurse says he wants Barnes to focus on his strengths.
"His intangibles are really what make him special and that's what I have been talking to him more about," Nurse said. "I'm like: 'Do your things that make you special. You're a good defender, a pass-first guy, you're a rebounder, you bring it on the break, you do a little of a lot of things.' That's what I'm trying to get him to do.
"And then focus on the defensive part of it because he can be a special defender when he's locked in and then try to stay aggressive offensively. I know that's a lot of stuff, but mainly I just want him to be a connector out there — high level."
LINEUP CHANGE
Nurse made a third consecutive change to his starting lineup taking Thad Young out and inserting Koloko.