WARMINGTON: Rowdy Diwali celebration in Mississauga under scrutiny – Toronto Sun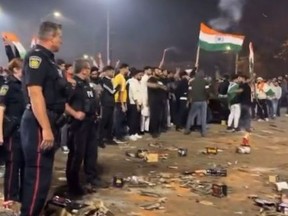 To say there were fireworks and a confrontation at this Diwali celebration in Mississauga is not an exaggeration.
The fireworks and actions of those at the Westwood Square parking lot — at Goreway Dr. and Jollife Ave. — have landed participants in the hot seat.
"I strongly condemn the fight at Westwood Square last night," Mississauga Mayor Bonnie Crombie tweeted Tuesday. "Diwali is meant to be a celebration of peace and unity — not violence and division."
Video accounts remind one of a war zone.
On one side of the parking lot were people of Hindu faith and on the other followers of Sikhism. Both sides were setting off fireworks.
Peel Regional Police officers found themselves in the middle.
"It was crazy," said one witness. "The Peel police kept it calm. They were really good."
His pal agreed: "Who knows how it would have ended up without police there."
Despite the mayor's condemnation, Peel police were downplaying what happened.
"First off, we would like to clarify that it was Diwali celebration and not a fight," said Const. Philip Yake. "Even though there was a fight reported, it was a peaceful gathering."
The original tweet from Peel Police said "FIGHT – Goreway Dr / Etude Dr #Mississauga– #PRPresponded to reports of 400-500 people fighting in a parking lot – #PRPlocated one person with injuries – Male being assessed by@Peel_Paramedics – #PRPretaining in the area as things have calmed down – C/R 9:41pm."
Before that, there were hundreds yelling at each other but seemingly sticking to their own sides of the parking lot.
In assessing what the video shows, Toronto Sun columnist Tarek Fatah, who writes about South Asian politics,  noted "on one side, were Sikhs with flags of Khalistan hurling abuse at Mother India while on the other side were Hindu Indians expressing their dislike of Khalistan."
Fatah said while "both sides avoided a serious confrontation while being adversarial" he credits both  Crombie and the police for the way they handled the situation.
Your Midday Sun
From our newsroom to your inbox at noon, the latest headlines, stories, opinion and photos from the Toronto Sun.
By clicking on the sign up button you consent to receive the above newsletter from Postmedia Network Inc. You may unsubscribe any time by clicking on the unsubscribe link at the bottom of our emails. Postmedia Network Inc. | 365 Bloor Street East, Toronto, Ontario, M4W 3L4 | 416-383-2300
We apologize, but this video has failed to load.
"With fireworks and obscenities everywhere, Crombie was correct to call it a fight and condemn it," said Fatah. "But Peel police officers kept this from becoming bigger by using skilled de-escalation efforts."
No charges or bylaw tickets were laid. No permit is required to set off fireworks as part of Diwali celebrations.
"But someone could have been hurt," said Fatah. "As a kid in Karachi, I saw fireworks fly into a building and start a fire that killed 30 people. Fireworks are not something to mess with."
Fatah agreed with Crombie that future Diwali celebrations should never see a spectacle like this.
"It's supposed to be a holiday of light, not darkness," said Fatah. "Multiculturalism is supposed to bring us together and not throw us apart."