WISH FULFILLMENT: Disney's latest cruise ship the stuff of dreams – Toronto Sun
'It's taking a lot of what our guests know and love, and bringing it to life in different ways'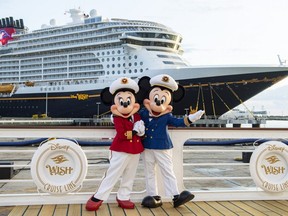 If you're anything like me, by now you've put away the Christmas decorations and are starting to look at new travel experiences to try in 2023.
And after the deep freeze much of the country experienced last month, you'll be searching for something that can please everyone in your family.
Your Midday Sun
From our newsroom to your inbox at noon, the latest headlines, stories, opinion and photos from the Toronto Sun.
By clicking on the sign up button you consent to receive the above newsletter from Postmedia Network Inc. You may unsubscribe any time by clicking on the unsubscribe link at the bottom of our emails or any newsletter. Postmedia Network Inc. | 365 Bloor Street East, Toronto, Ontario, M4W 3L4 | 416-383-2300
On a recent preview of Disney's new 4,000-passenger Disney Wish with my niece and nephew, I was able to tap into the all-ages Disney magic as the ship gathered fairy-tale characters and experiences from Frozen, Marvel and Star Wars for an enchanting three-night adventure.
From the moment you enter the Grand Hall and hear the sounds of ambient Disney music playing in the background, you are completely whisked away to a place where your imagination can truly run wild.

The immaculately designed Wish is the Walt Disney Co.'s first new ship in a decade and offers a combination of five-star amenities and nostalgic magic as the vessel leans into the classic storylines we all know and love.
"The Disney Wish is so special and she has so many firsts onboard," cruise director Ashely Long says during an interview at sea off the coast of Port Canaveral, near Orlando. "Disney is all about storytelling. When you come on our cruise ship, around every corner we want our guests to be part of that story. It's an important part of our Disney heritage and to get to do that and combine it with an incredible cruise vacation is an incredible experience we want to bring to our guests."

The ship boasts six pools and the first Disney attraction at sea with the AquaMouse, a water roller-coaster that soars high above the ship's upper decks. Then there's an adults-only Star Wars lounge. A Frozen dining experience features live songs from the animated films with characters interacting with guests throughout the night.
Meanwhile, a Marvel-themed restaurant plunges patrons into a brand-new adventure alongside Ant-Man (Paul Rudd), Wasp (Evangeline Lilly), Captain Marvel (Brie Larson), Ms. Marvel (Iman Vellani) and Captain America (Anthony Mackie). If you are a Marvel fan, or someone in your entourage is, it is such a treat to be plunked in the middle of a story co-scripted by Michael Waldron that brings back the villainous Ultron. The food is pretty darn good, too.
Three days is short and there was a lot to see, but here is our guide to some of the magic that await guests on the Disney Wish.
Chow time
Of course, dinnertime is central to the cruising experience and the Wish elevates table-service meals with two attractions that let you nosh while taking part in interactive theatrical stories tied to Frozen and the Marvel Cinematic Universe.
Avengers: Quantum Encounter isn't part of Marvel's ongoing cinematic universe, but acts as a part of what Disney Imagineer Danny Handke calls the "theme park universe" that also includes Avengers Campuses in Anaheim and Paris, the Guardians of the Galaxy: Cosmic Rewind coaster at Epcot, and Guardians of the Galaxy — Mission: BREAKOUT! at Disneyland.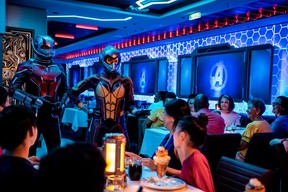 "We kind of have our own universe going on that's adjacent to the Marvel Cinematic Universe," says Handke. "In our stories, in the [theme] parks and cruise line, the audience is the protagonist. We're enjoying dinner and we get to be part of the action."
A separate dining adventure jumps off from Frozen II, with guests brought into the world of the animated film as they are invited to Arendelle to celebrate the engagement of Kristoff and Queen Anna alongside Elsa and Olaf at a party catered by Oaken.
"Frozen is a beloved franchise and we saw such a great opportunity to bring that to life in a new way onboard the ship," says Jessica Jackson, senior marketing leader at Disney Cruise Line.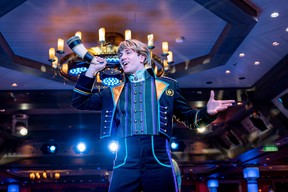 A third restaurant, 1923, celebrates the year the Walt Disney Company was founded, with nods to old-style Hollywood glamour and the company's illustrious history.
All three of these options will find your party being served by the same dedicated wait staff at breakfast and dinner, which is nice as they get to know your dietary preferences and can personalize your meals.
Casual options are plentiful and include: Mickey and Friends Festival of Foods — an open-air area that serves tacos and burritos, pizza, burgers and hot dogs and ice cream — and Marceline Market, which offers buffet-style selections.
But if you are looking for an elegant dining experience, you'll want to try Palo, a steakhouse inspired by Beauty and the Beast's Cogsworth, and Enchante, which boasts a menu crafted by Michelin-starred Chef Arnaud Lallement.
Travellers with a sweet tooth will also want to visit the Inside Out-themed dessert shop. Pro-tip: Go for the blueberry-lime gelato.
Adults-only
After parking the kids at the Oceaneer Club (aimed at little ones aged 3-12), the Edge (which caters to children ages 11 to 14) or the Vibe (aimed at teens 14 to 17), the ship has plenty of escapes for the grown-ups who need some quiet time.
"It's taking a lot of what our guests know and love, and bringing it to life in different ways," Long says. "The key to family cruising is to have something for everyone."
At night, adult Star Wars fans can grab a drink inspired by the films inside the Star Wars: Hyperspace Lounge, which boasts views of memorable planets and ships from George Lucas' iconic cinematic universe and evokes the look of Solo: A Star Wars Story. Extreme fans will want to take a sip of the $5,000 Kaliburr Crystal, "the galaxy's rarest cocktail."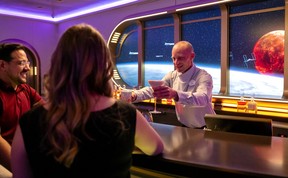 If $5,000 seems a little steep (when we visited it was the talk of the boat), the Rose Bar's signature Rose Lounge's signature cocktail — aptly name The Rose — is just as Instagram worthy as it comes served in an elderflower-smoked dome.
If you're looking to escape the kids during the day, the Quiet Cove is an 18+ area with plenty of loungers, a private bar and an infinity pool that overlooks the water.
And if you just need a break from all the noise (you can probably tell I don't have children), the Senses Spa offers traditional spa services like massages and facials, and a dedicated space where couples can grab some shade underneath a series of Mickey-shaped awnings.
That's entertainment!
The Wish offers plenty of entertainment from sun-up till sun-down (including a nighttime fireworks display with Captain Jack Sparrow), but one of the core attractions is AquaMouse, a water rollercoaster that features animated visuals of Mickey and Minnie starting up their own seaside excursion company as it winds its way high above the ship's upper decks.
Broadway-style entertainment is available to watch nightly with shows designed around Little Mermaid and Aladdin, as well as Disney Seas the Adventure, an original musical featuring popular Disney and Pixar characters.
Recommended from Editorial
If you want to catch up on a movie, there's two theatres that screen old favourites and brand-new films from Disney, Lucasfilm, Marvel and Pixar way into the evening.
Our three-night journey also included a stop at Castaway Cay, Disney's private island. During our full-day on land I got plenty of time in the sun lounging on an expansive beach while the kids snorkelled.
Takeaways
Three nights might not be enough to experience all of what the Wish has to offer. There was so much of the vast ship we did not get a chance to explore. But from the moment we boarded, everything was taken care of and we truly felt that our time at sea was about enjoyment and building memories. As a first-time cruiser, the experience was magical from start to finish.
For more info, visit disneycruise.disney.go.com.
RECOMMENDED VIDEO
We apologize, but this video has failed to load.