Zack Noureddine Foundation helps others — just as he would have done – Toronto Sun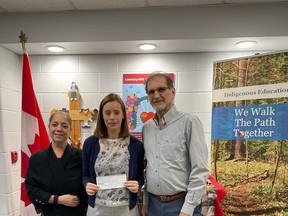 Zack Noureddine, 25, was killed in a senseless crime in Toronto in 2015.
The aspiring photojournalist was beaten and robbed in the Yonge and Davisville area on Dec. 30 and died in hospital of his injuries
Corner Kicks with Derek Van Diest
As the Canadian national soccer teams head to their respective FIFA World Cups, Derek Van Diest is on the scene to cover all the action. Expect expert insights and analysis in your inbox daily throughout the tournaments, and weekly on Thursdays for the rest of the season.
By clicking on the sign up button you consent to receive the above newsletter from Postmedia Network Inc. You may unsubscribe any time by clicking on the unsubscribe link at the bottom of our emails. Postmedia Network Inc. | 365 Bloor Street East, Toronto, Ontario, M4W 3L4 | 416-383-2300
Three men were charged in the crime; a 34-year-old man was convicted of first-degree murder and sentenced to 25 years in prison for the murder.
In the aftermath of their son's death, Noureddine's parents, Hassan Noureddine and Magda Khatib, set up a foundation in his name.
Their goal is to fundraise to help underprivileged kids in any way possible, in the hope they'll stay in school and away from a life of crime.
Over the years they've donated money to schools in Ottawa, where the family lives, and in the GTA.
Donations from the Zach Noureddine Foundation have provided funding for such basics as snow boots, shoes and food programs. The foundation has also financed activities (such as musical equipment) in schools.
This week they were at St. Christopher Catholic elementary school in Oshawa to deliver a cheque.
"For parents these days, everything is expensive," said Hassan Noureddine on Monday. "Kids need lots of help — there's always need, but now more kids need more help."
The parents fundraise through community activities, but much of the fundraising and distribution was put on hold during the pandemic.
Now, said Noureddine, they're back at it.
"Kids are in need. We're trying to make things better and make kids feel better. Some need shoes. Some need snacks. Right now we have funds to offer five or six schools."
He and his wife do this, said Noureddine, "because Zach used to help people. I was with him once when a person told him he was hungry, so Zach went to Subway Sandwich to get this man something to eat.
"He got him a sandwich and gave him some money.
"We do this because it feels like we are doing something with him. We like to help. I taught my kids to help people when they can.
"I hope people will read about this and it will inspire them to do something, to help." 
St. Christopher's principal, Valerie Cappuccitti, explained that the school community does have families that struggle economically.
"We have a food and snack program, so nobody goes hungry at our school. The Noureddine's donation will supplement our program and round out the program," Hassan said.
We apologize, but this video has failed to load.
The money may be earmarked to buy a fridge, which will allow the school to offer milk and dairy products in their food and snack program.
Some may go to help kids who can't afford school trips.
Cappuccitti explained that the school's snack program has ministry funding that allows for one snack per child, per day, "but with COVID, mental health issues, changes in the community, some students use it not only as a snack — they haven't all had breakfast and some won't have dinner."
That means some kids will need three or four snacks a day, and that's no issue. "The nice thing is, it's all normalized. The students don't feel centred out in any way."
At this point, she said, the kids who need anything extra know that they can ask.
"We're family, so we provide in that fashion. This contribution augments what's in place," she said.
Anyone wishing to contribute to the Noureddine's initiative can visit zacknoureddine.com.