Skills Canada Alberta holds trades event in Heartland – The Sherwood Park-Strathcona County News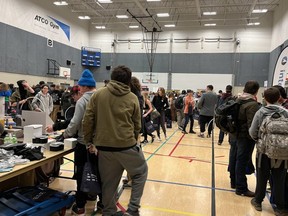 Around 700 junior high and high school students from the Heartland region recently took part in a first-of-its kind event focused on getting more students in trades. 
Skills Canada Alberta partnered with Inter Pipeline, North West Redwater Partnership, Pembina Pipeline, Willowridge Construction, Wolf Midstream and Dow Canada to host an exclusive Try-A-Trade event.
"We did it a large one province-wide one in 2019 and decided to take a few years off due to the pandemic but 2019 was the first year we did it and it was a success," explained Victoria Anderson, communications lead at Skills Canada Alberta. "This was the first time we could actually host a standalone community focused try and train event."
Anderson said this was the first time they have done an event focused on a specific region but its success shows it is a good way to plan them. 
"Due to how important trades are in that region it made sense to host something like this in the region. There were so many eager partners who were strong in the community that wanted to reach those students and it was a really easy fit," she said. 
Anderson said there was welding, scaffolding, carpentry, cupcake decorating and lots of other trade opportunities. 
"We reached out maximum and had the ability to host 150 students per time block and we were able to fill up each block," Anderson said, adding around 700 students came through the event. 

The event, which was held on Tuesday, Nov. 1 at the Dow Centennial Centre in Fort Saskatchewan, had students from Bev Facey Community High School, Strathcona Christian Academy, Next Step Outreach, Fort Saskatchewan High School, Fort Saskatchewan Next Step, Lakeland Ridge School, Lillian Schick School, Thorhild Central School, Four Winds Public School and Gibbons School. 
"Any booth that was interactive the students really enjoyed. Students all really loved the cupcake one but also really enjoyed the welding simulator that PCL brought. They also really enjoyed the scaffolding one and a DOW puzzle one that had you match tools to the trades," Anderson said. 
The student-focused event offered 20 trade and technology career opportunities to learn about with hands-on demonstrations.
"It is a great opportunity to try something they've never tried before and maybe spark an interest in something they might not have been interested in. It was interesting to see how many students who came and their dad was a welder or uncle was a scaffolder or another trade featured."
The event was aimed at junior high and early high school students to give them ideas on what sort of career they might be interested in.
"One of the huge focuses of our organization is to remind young people that there is just as much credence and just as much power behind a trades education as there is a university education. There are just as many rewarding career opportunities in those fields as there are in university education," Anderson said. 
Anderson hopes this becomes an annual event for the community and keep students interested in trade careers. 
You can find out more at skillsalberta.com. 
tdosser@postmedia.com
twitter.com/travisdosser